We're super excited for this blog post as it covers one of our very favourite wedding planning topics…styling! And, in particular, top tipi wedding décor themes and trends!
As you've likely gathered, we're not your standard tipi hire company, oh no! For we go waaaaaaay beyond supplying a canvas structure by offering an epic (and ever-expanding!) decor, lighting and furniture hire range for tipi weddings too.
Why? Because we love to inspire and excite you with the numerous ways tipi wedding tents can be transformed to put your own awesome stamp on your day…whilst seriously wowing your guests!
So, prepare to take note as we reveal top décor ideas, colour schemes and trends for tipi weddings in 2022 and beyond! Plus, we'll be sharing some Tipi Unique styling suggestions AND answering the commonly asked question of how to pick a wedding theme?
Now, wedding planners and Pinterest boards at the ready, as we let the inspo flow!

Top Tipi Wedding Styling Themes 2022/23
Whether planning a full-day tipi celebration or a tipi wedding reception, these current trending themes will help fire up your imagination and get those creative cogs a-turning!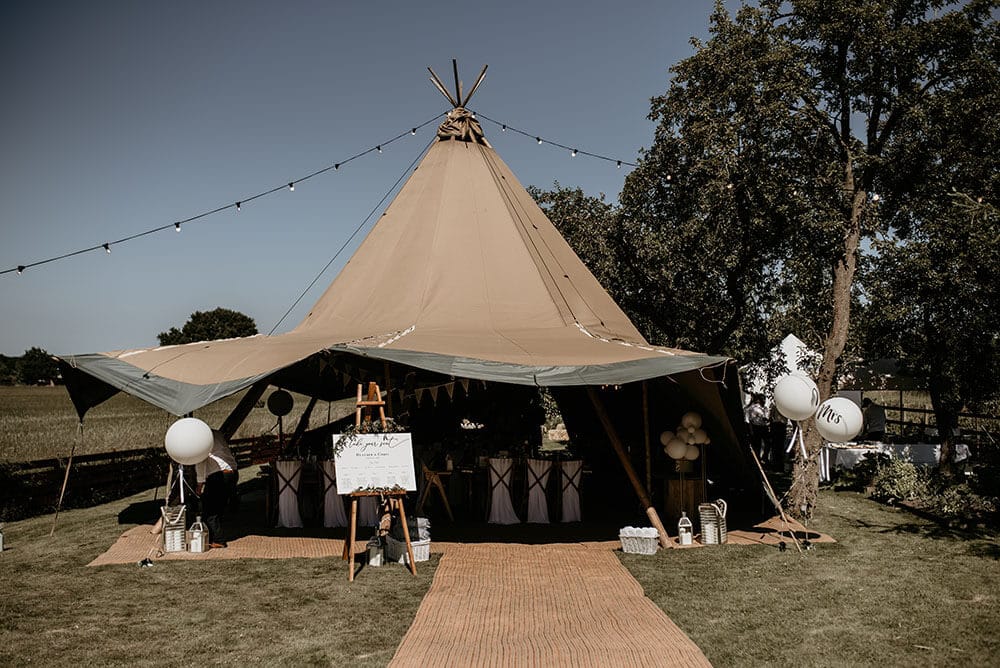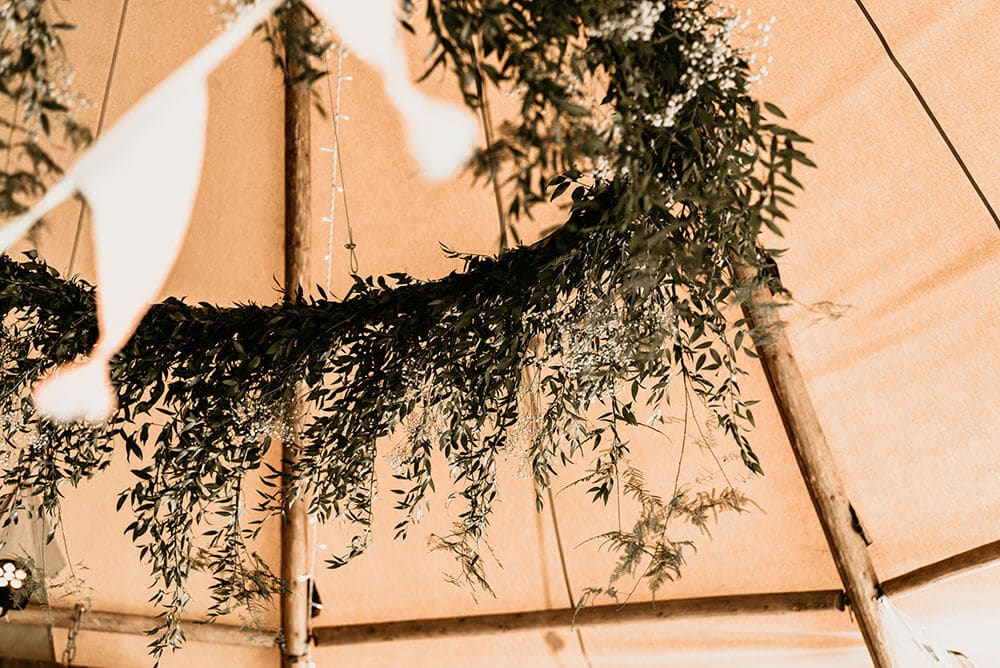 This stunning wedding scheme is said to be fuelled by a desire for a return to beautifully styled occasions following those long lockdown periods, plus the nation's obsession with hit TV series Bridgerton.
The look is perfect for couples who crave a classic and timeless wedding day that's regal without being rigid.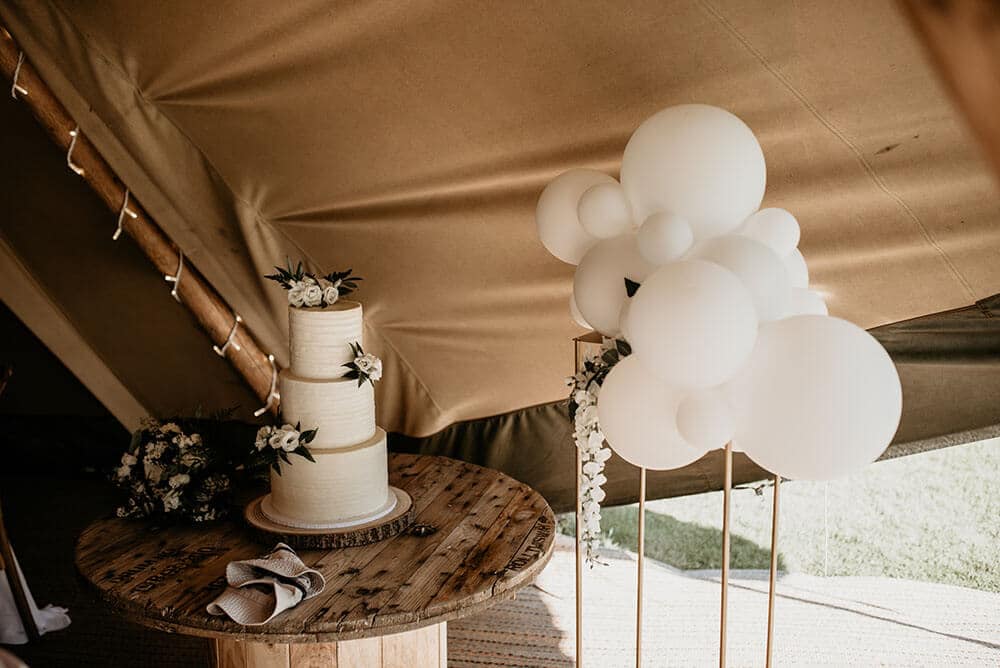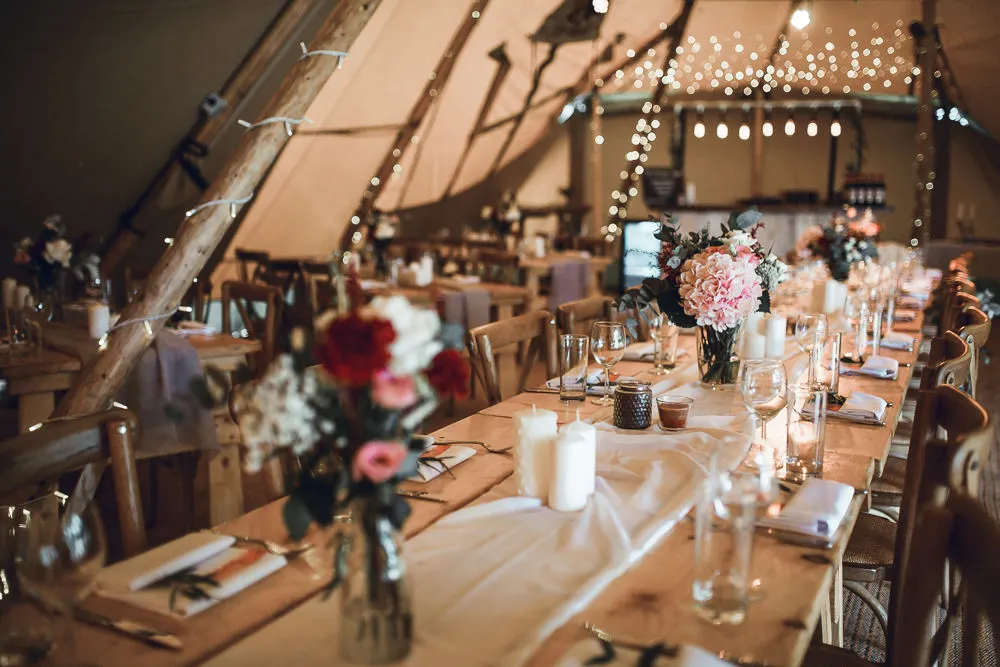 To achieve an elegant tipi wedding, think ornate furniture, such as beautiful Chiavari Chairs and long trestle tables topped with crisp white linen and flowing fabric runners. Centrepiece-wise it's all about tapered candles in decorative holders mixed in with romantic floral displays in urn-style pots and cut-glass vases.
To enhance those graceful feels, we'd suggest a beautiful ceremony backdrop, such as our Vintage French Doors or a Hanging Planter suspended from the roof space and filled to the brim with trailing florals. Whimsical Wisteria is the choice of bloom among Bridgerton fans, don't ya know!
For the lighting, it doesn't get any more pretty than reams of Fairy Lights wound around the tipi's wooden poles and roof struts, plus atmospheric Lanterns placed along the aisle or entrance walkway.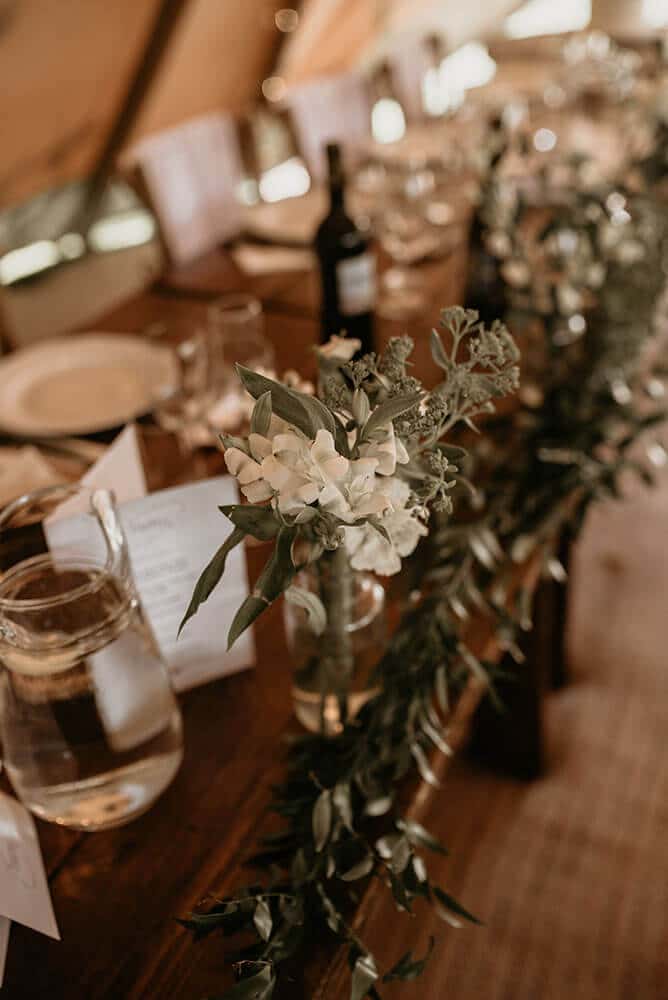 The colour palette for those planning an elegant tipi wedding centres around soft, classic shades such as ivory, sage green, blush pink and – for the Bridgerton buffs – regency blue.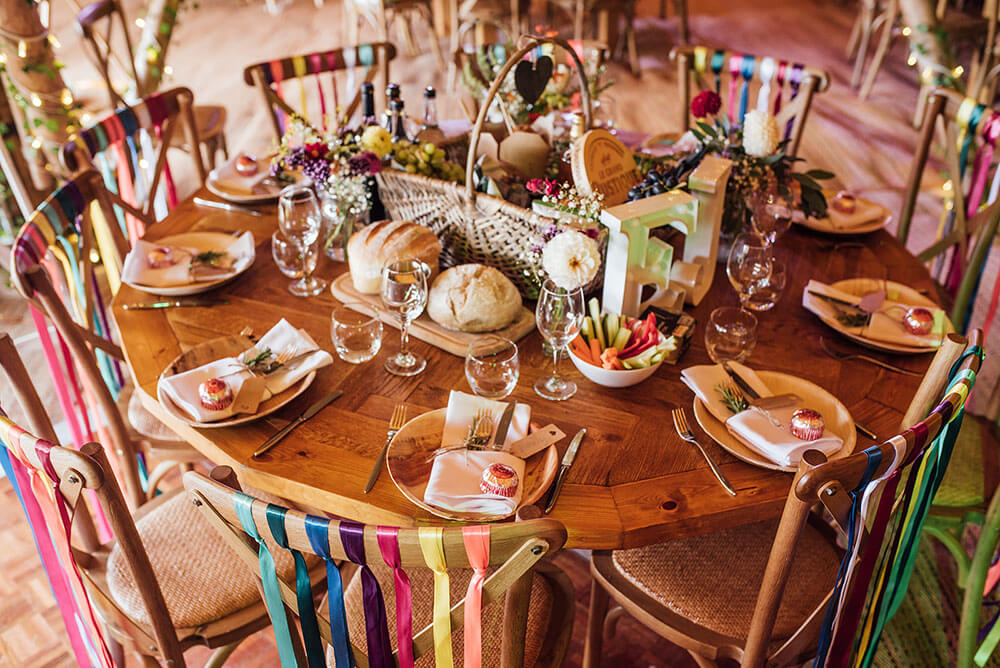 Festival tipi weddings will forever prove popular with those keen to hurl the wedding 'rule-book' outta the window and have a fun, colourful and informal big day.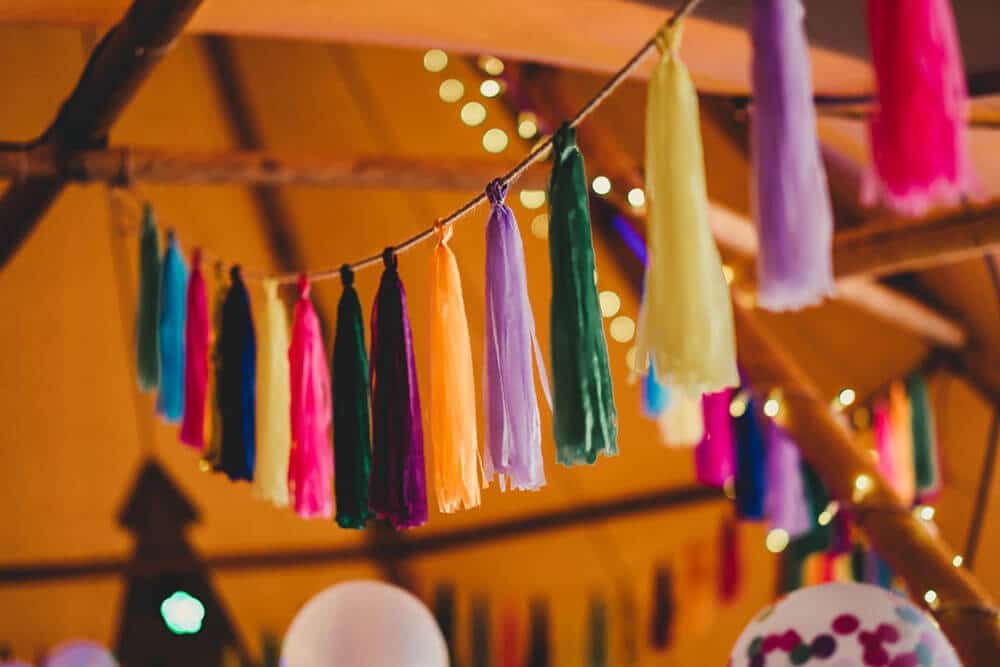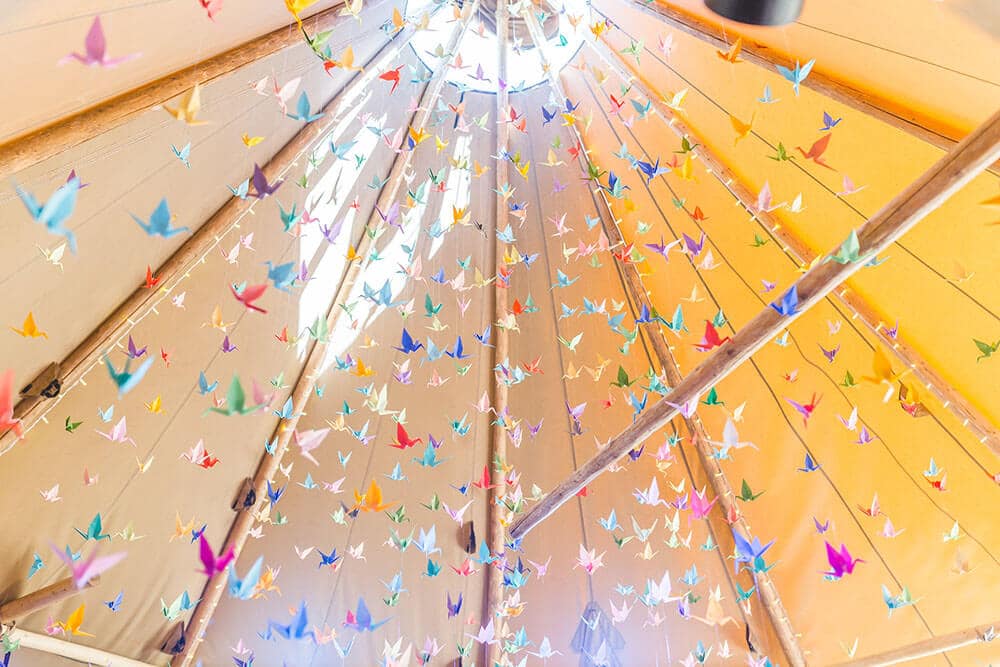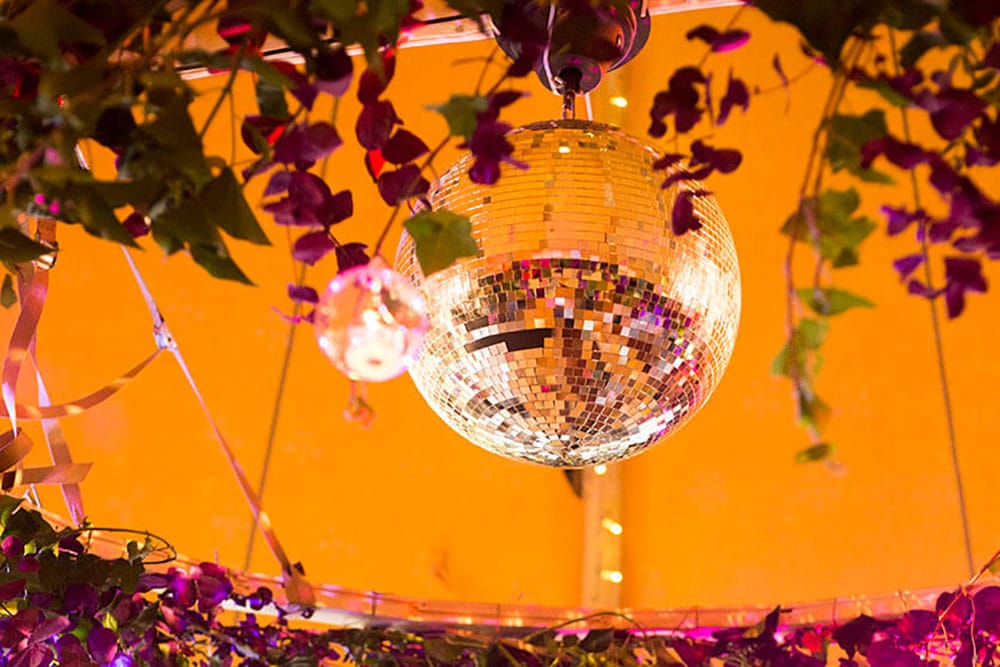 When it comes to the decoration for this wedding theme, the tipi's indoor and outdoor styling plays an integral part in setting the scene and creating those carefree, party-on vibes. In which case, huge Festival Flags and joyous Festoon Lighting are a must for guiding guests to the heart of the action. We also love to create cool outdoor seating areas with hay bales or rustic Poseur Tables and wooden Troughs for alfresco drinks and fabulous entertainment.
Continue that upbeat atmosphere inside your tipi with a vibrant Lantern Roofscape, even more cool festoons and a Grand Party Ball suspended above the dancefloor for when your band lets the beat drop!
In terms of fitting furniture for a festival wedding, we'd suggest Long Rustic Tables dressed with colourful blooms in simple bottles and Wooden Folding Chairs decorated with rainbow ribbons.
Colour scheme-wise, anything goes, but it's usually a case of the brighter, the better!

Relaxed Garden Tipi Celebrations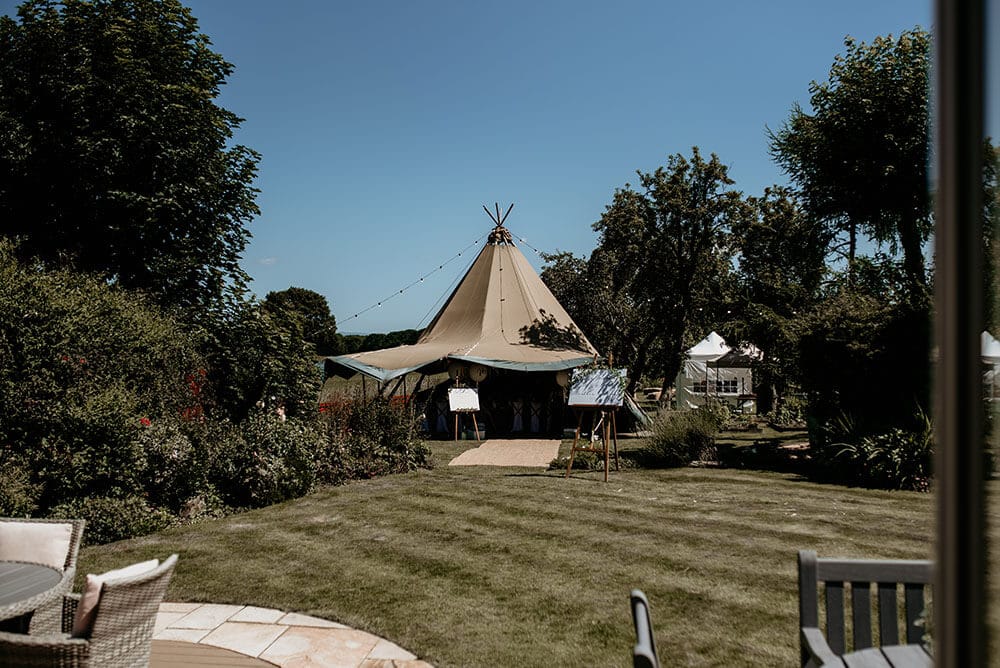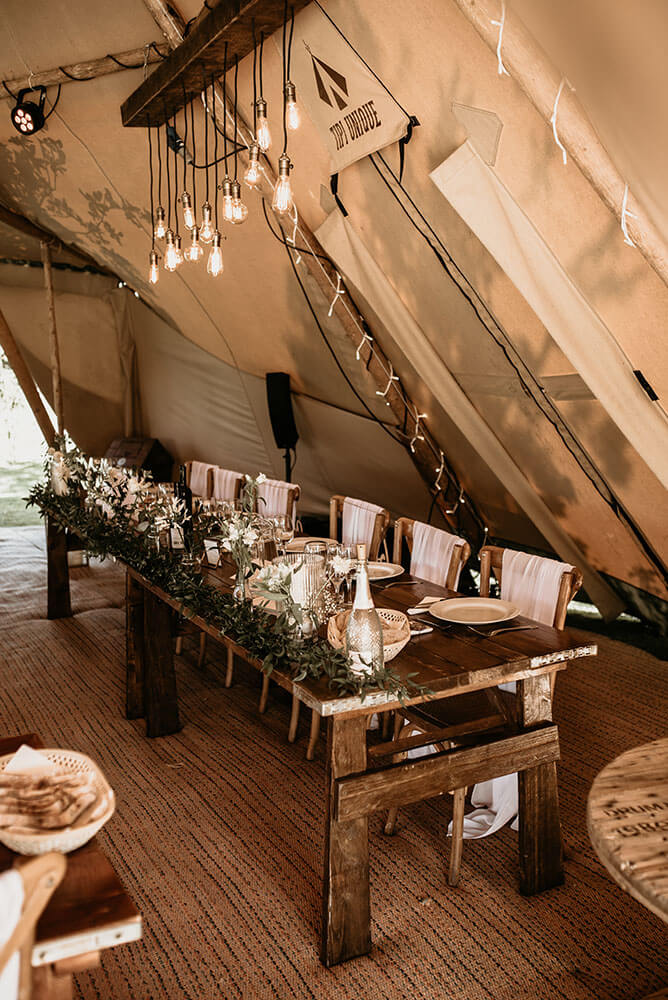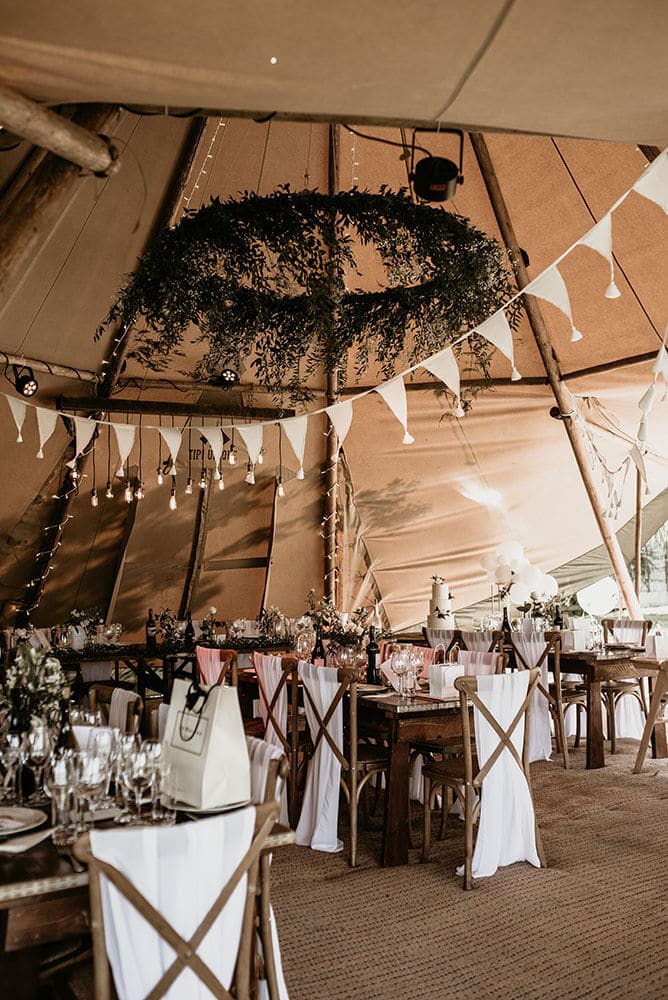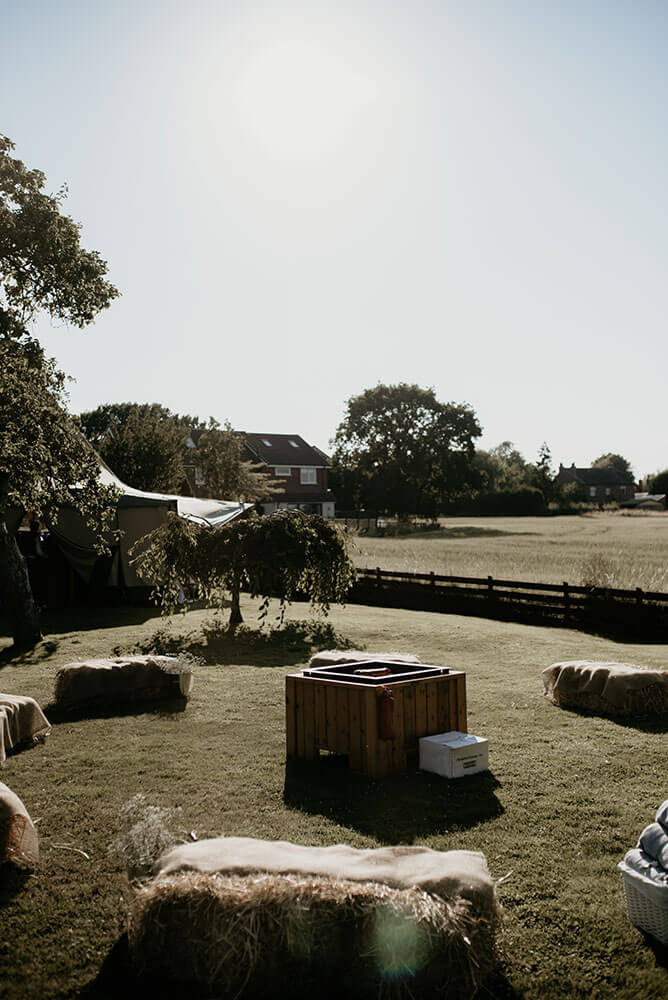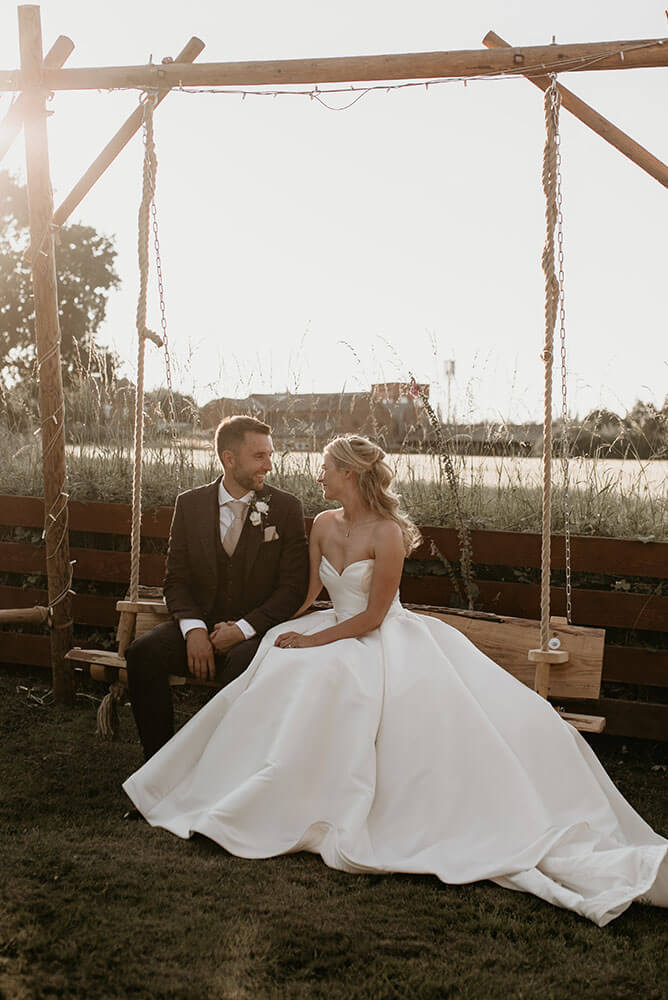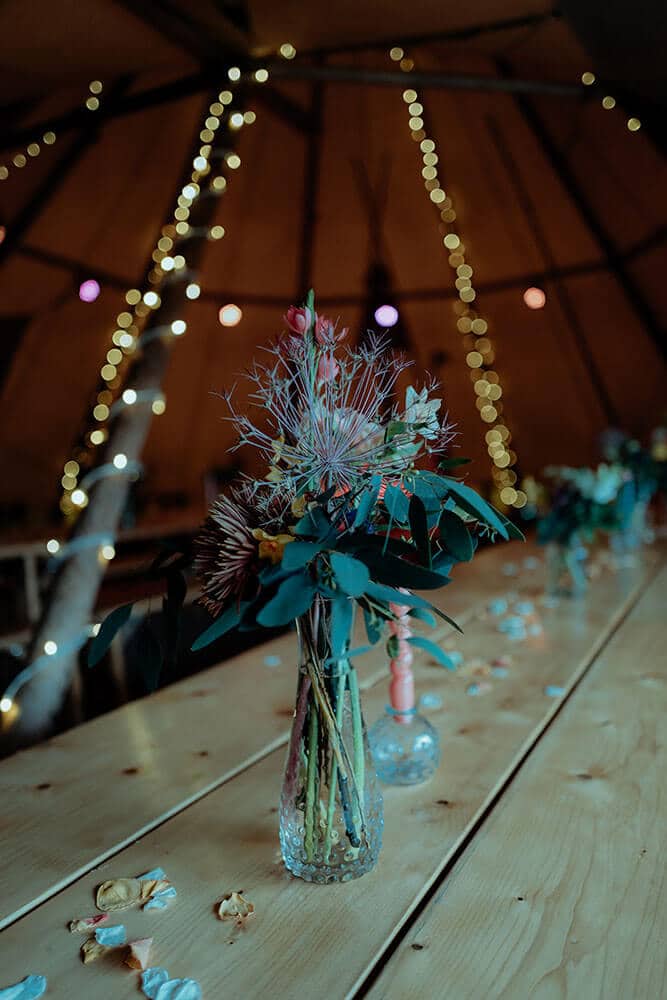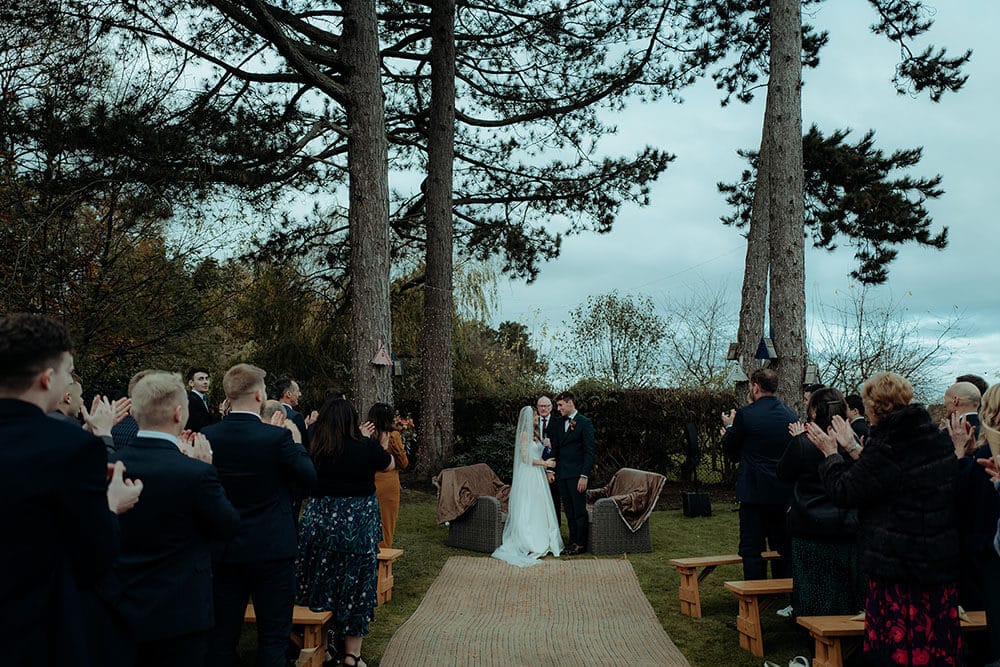 This tipi wedding trend focuses less on projecting a specific style and more on stirring sentiment.
Not restricted solely to gardens, this style of tipi wedding usually takes place in a location close to the couple's heart, such as a sports club, favourite part of the countryside or land owned by a relative.
The look is stripped-back loveliness with an appreciation for the outdoors and all that is considered dear.
Wooden Cross-Back Chairs dressed with simple foliage are perfect for outdoor ceremonies and tipi wedding receptions, while warm festoons will help to line walkways and dress the tipi entrance. For an extra nostalgic touch, we'd suggest a beautiful Swing Seat For Two, providing space to reflect as a couple…and a super sweet photo opp too!
Inside the tipi, Round Rustic Tables suit this laid-back style and help to create an amazing, intimate atmosphere amongst guests. Decoration ideas include foliage table runners and single-hued, simple flowers such as magical, fluffy gyp in clear vessels.
If wanting a décor focal point, you could opt for a large greenery-dressed Ceiling Hoop or Edison Light Bulb installation suspended from the roof space, as well as Ladder Shelves to display precious family photos.
The colour palette of this relaxed style of wedding tends to be dictated by the season, with 'in-bloom' flowers forming a key part of the décor and will often feature gorgeous shades of green to emit that organic outdoor goodness.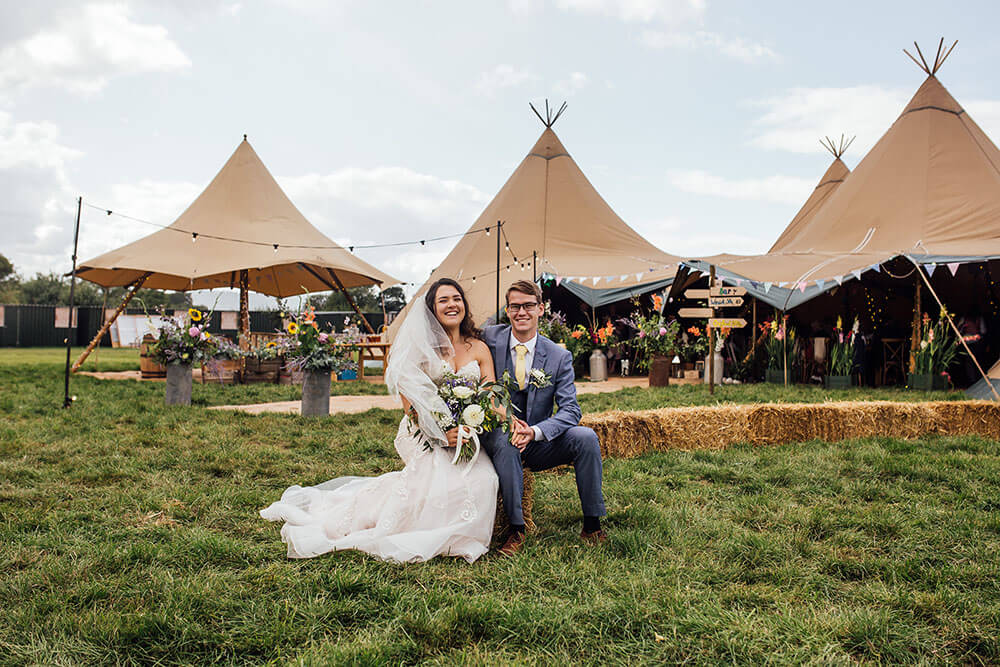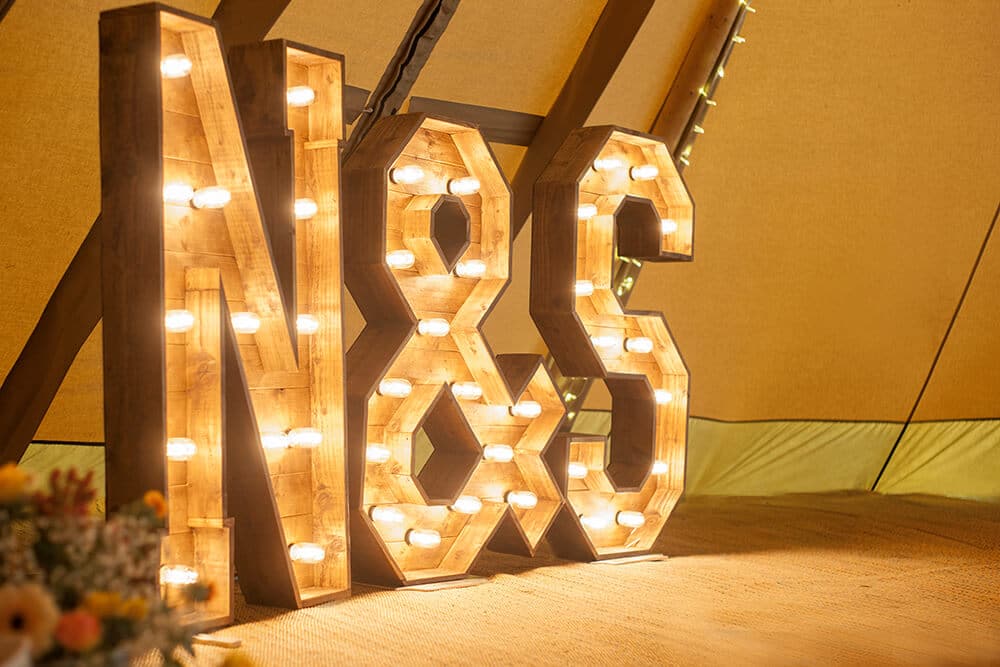 Rustic and tipi naturally go hand in hand, so it's no wonder this wedding theme continues to reign supreme!
Filled with home-spun details and gorgeous countryside décor, this is one for couples who love the great outdoors and want a beautiful yet laid-back big day.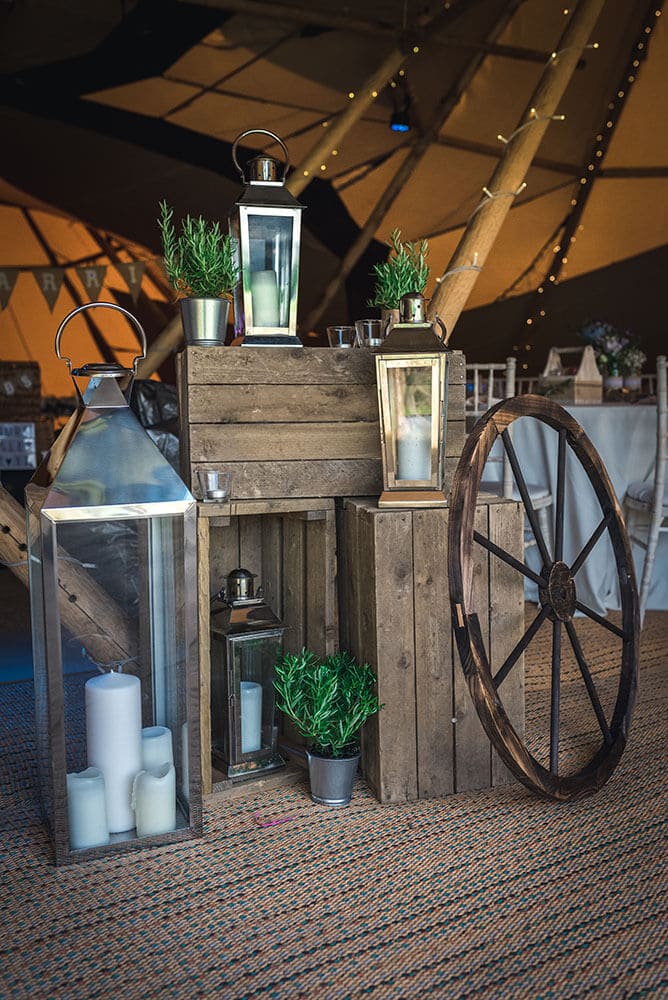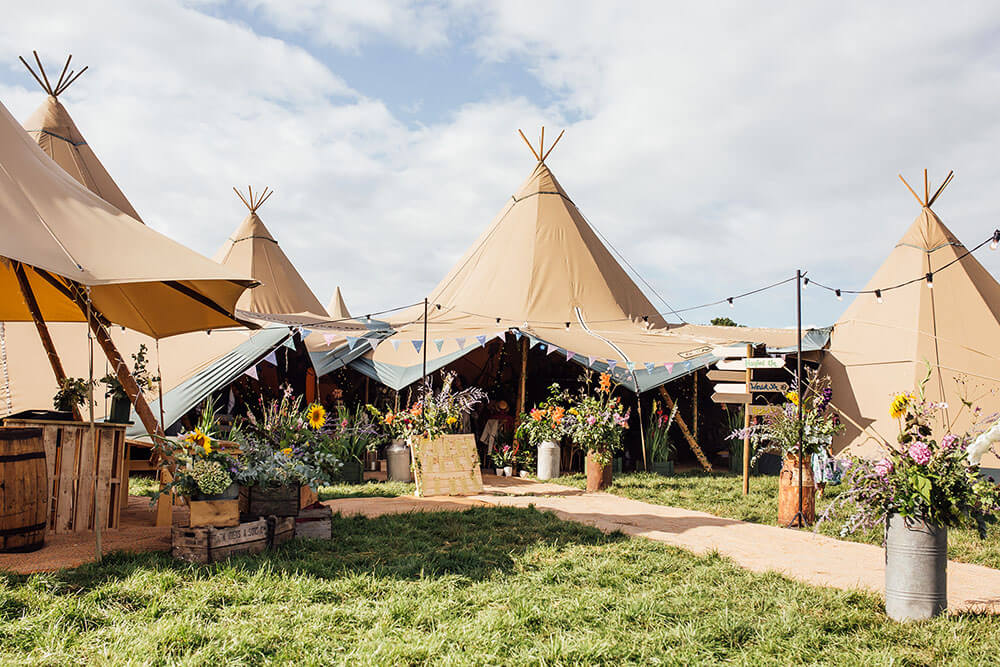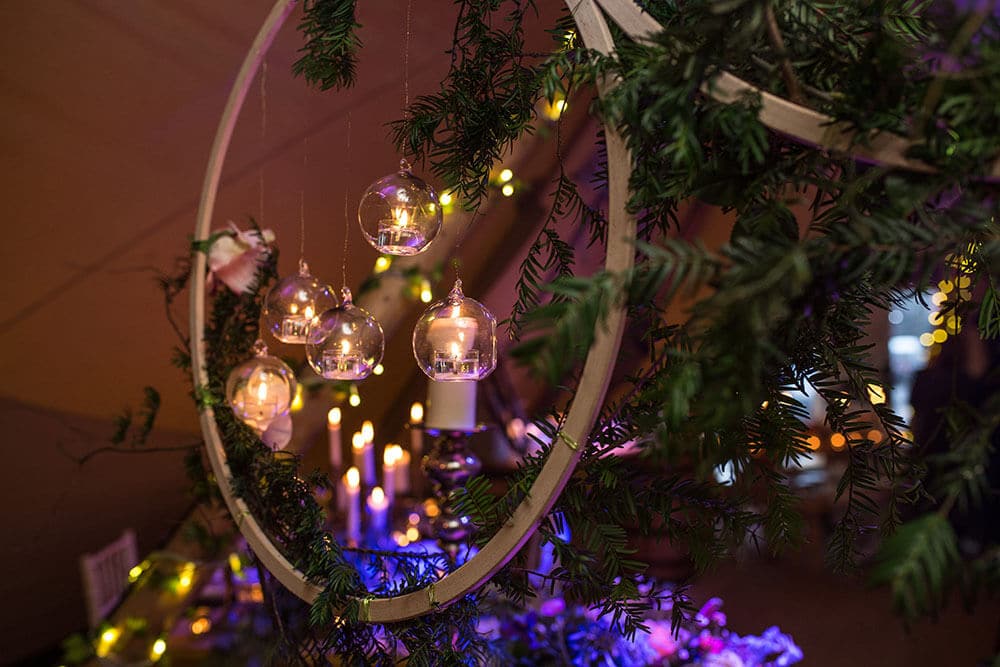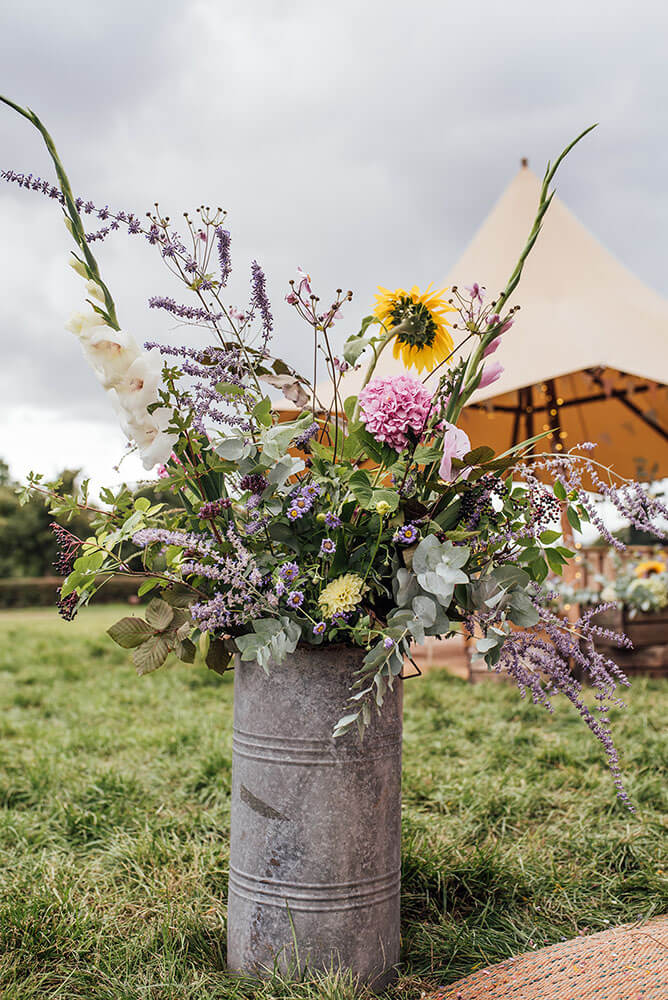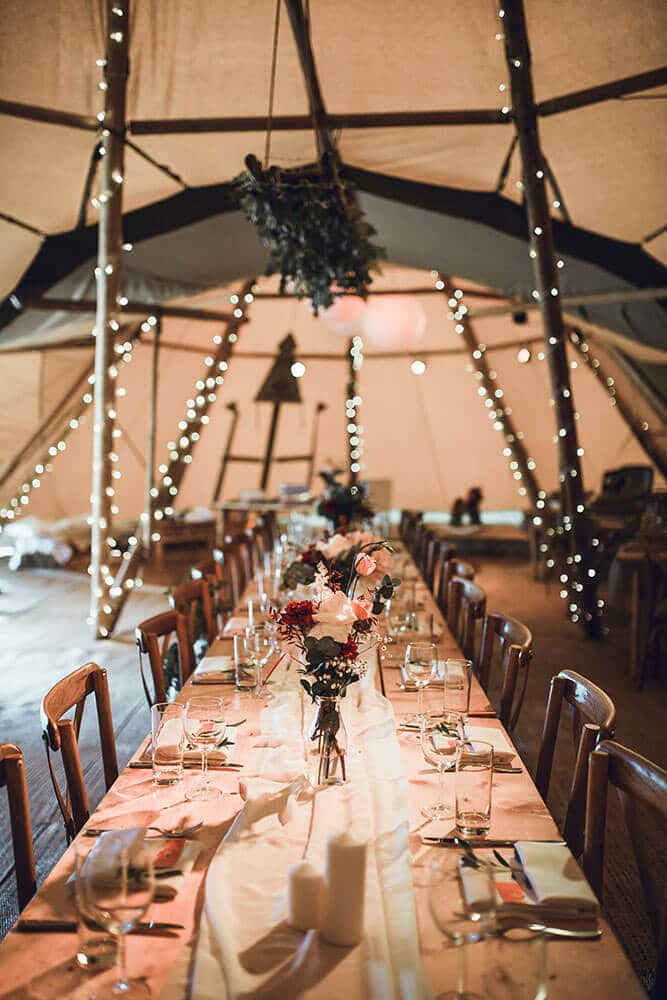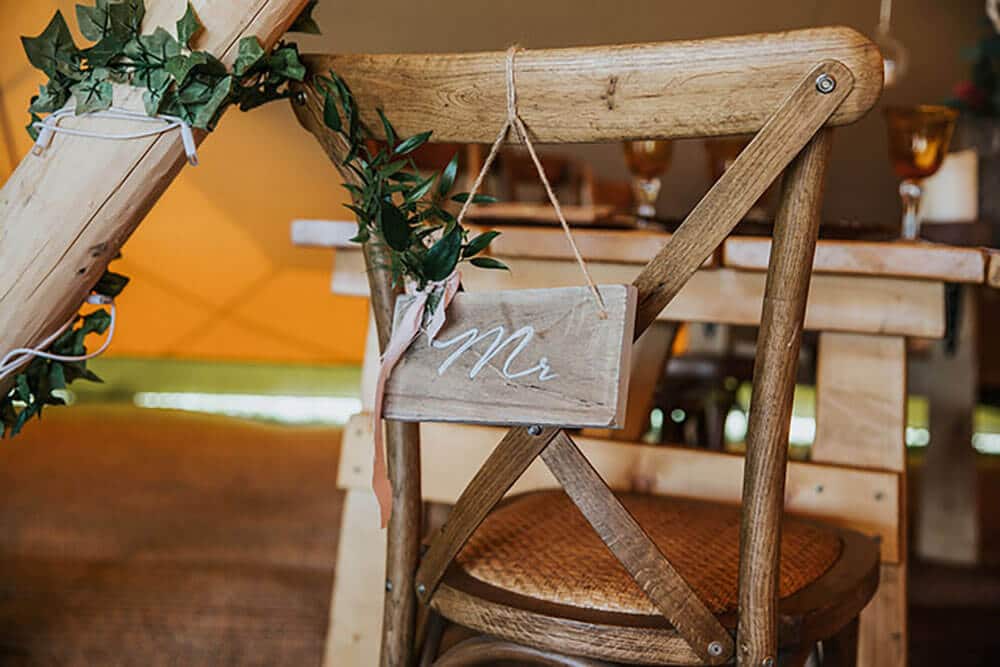 For outdoor celebrant wedding ceremonies, you could seat guests upon Long Rustic Benches and top and tail the aisle with Milk Urns brimming with undone country blooms. To frame those all-important "I dos", we'd suggest a beautiful arch or Moongate Backdrop dressed with coordinating flowers.
When it comes to the reception, use rustic props, such as floral-filled milk urns, Oak Barrels and wooden crates, to create on-theme entrance décor. Inside, dress Long Wooden Tables with 'just-picked' style flowers in pretty bud vases and place upon rustic log slices or burlap table runners.
For wow-factor ceiling décor, think Floating Ladders dressed with cascading blooms or an atmospheric Fairy Light Canopy suspended above the dancefloor like a star-lit sky. To add further interest to the tipi structure, we love to see Decorative Ivy and pretty fairy lights wound around the tipi struts, creating a more ethereal feel for the evening celebrations.
In the warmer months, you can extend the décor outdoors with an open-air chillout area, complete with hay-bale seating, cosy Fire-Bowls and booze-filled Beer Barrows.
Again, the colour scheme for a rustic tipi wedding tends to be fairly free-ranging, with some couples opting for muted and pastel tones and others going all out with popping rainbow hues!

How To Pick A Wedding Theme
The style of wedding you choose will likely influence everything from your big day threads through to flowers, entertainment and décor. As such, it's worth taking time to pick a theme that will suit you as a couple as well as the type of celebrations you want to throw!
To help, here's some elements we'd suggest taking into account when picking your theme:
Personal Style – The most important part of your wedding? YOU! And so you want your wedding to be a joyous reflection of the fabulous people you are…and all the things you love! So, for example, you might take inspiration from your hobbies, what makes you tick as a couple or perhaps the place you first met.
Time of Year – The season in which you wed will naturally feed into the décor of your day, especially when it comes to flowers and colour schemes. So, festival and country garden weddings with bright or pastel colour schemes often work best during spring/summer while more opulent and intimate weddings with richer colour palettes tend to be better suited to autumn/winter.
Setting – Whether having a tipi wedding in Cheshire or getting hitched further afield, your surroundings will be another sway on your styling. Saying your nuptials by ethereal woodland? Then a beautiful boho theme could be a match made in 'I do' heaven. Relative's garden? Then consider those lovely relaxed, personal décor details. Grounds of a stately home? Then it could be all-out elegance all the way, baby! Catch our drift?
Ambience – Planning a wedding isn't just about making it look good; you want it to feel good too. So, think about the type of feels that you want to flow on the day – is it laid-back, easy-breeziness, regal and refined, or party-hard energy only?

Got a question for the team or want us to bring our tipi magic to your big day? Then simply fill in our contact form, and we'll get back to you pronto!

With images by Moon & Back Films, Florence Fox, Amy Jordison Photography, Photos By Damian Brown, Joanna Eardley Photography, Daisy Chain Photography