We get it! You've fallen head over heels in love with the idea of a tipi wedding (you're only human, after all!), but you've got no idea where you'd host it.
So many couples come to us with this very conundrum, but fortunately, it's a planning pain point that's a doddle and a delight for us to solve.
You see, there are actually OODLES of amazing tipi wedding venues out there (especially in the North West, not that we're biased or anything!), but sometimes you have to scratch beneath the regular venue search surface to find exactly what you want.
And, being the wedding magic-makers we are, we're here to help you do exactly that! Simply scroll on to read our finding-your-perfect-tipi-wedding-venue 'checklist' and to discover some ways we can help you pinpoint your dream outdoor wedding setting in the North West of the UK.

How To Find Your Perfect Tipi Wedding Venue
The ultimate starting block is finding a suitable tipi pitch, but the good news is that our Nordic wedding tents can be erected on pretty much ANY level piece of land (ideally grass), making the possibilities plentiful.
Think sports clubs, village halls, pub beer gardens and campsites, plus privately owned land such as farmers' fields or a relative's garden. We also regularly work with organisations such as The National Trust to provide tipis for celebrations at historic venues and within beautiful countryside settings.
So, with bountiful options to consider, how do you pick the perfect site for your tipi wedding? Well, above all else, we'd say it needs to get your heart racing with excitement, but it should also tick more than less of the following checklist boxes:
Location – You will want the site to be within easy reach of other elements of your day. This might be the church or wedding venue where you will have your ceremony before moving on to your tipi wedding reception. Alternatively, you might want it to be close to home, where most of your guests will be travelling from, or near the accommodation where you and your wedding party will be getting ready and staying over.
Space – Find out how much outdoor space the venue/site offers and if it will accommodate the size tipi(s) you need for your guest numbers. Plus, think about any added extras you might want to raise that big day bar and make your celebrations truly one-of-a-kind. We're talking outdoor seating and games, a styled chillout area, fire pits and cool street food trucks.
Setting & View – Consider if the setting fits with the vision you have for your big day. So do you want a high-energy festival-themed wedding in an expansive field, a relaxed and intimate back garden tipi wedding, or an all-out elegant affair by a lake? Then there's the backdrop and view to think about. What photo opportunities/backdrops does it offer, and what outlook will guests have from the tipi?
Facilities – This is one area that can vary massively from one option to the next. So, a dedicated wedding venue might well have toilets, electricity supply and accommodation on site whilst also providing event management and supplier recommendations. Meanwhile, a farmer's field might only offer the land and possibly an outbuilding or two that you can make use of. Both will have pros and cons in terms of flexibility, workload and price, so it's a case of weighing up the options.
Accessibility – On the logistics side, it's essential to assess how accessible the site is, not only for your tipi hire company (like us!) but also for your suppliers and guests. Can you drive right up to it, what surfaces will people have to walk on, and how could weather conditions like rain affect such surfaces?
Hire period – When making initial enquiries, ask what the hire period of the venue or site is. For tipi wedding venues, a three-day hire period is common to allow for the set-up and collapse of the tents, though we can work to tighter timelines if required (trust us, we LOVE a challenge!). However, you might want to extend your celebrations across multiple days with a pre-wedding dinner or post "I do" brunch, so you will require an extended hire period.
Budget – The dreaded b-word, forgive us! But of course, this plays a crucial part in where you can host your tipi wedding. Numerous factors will alter the cost, like facilities and hire period, so think about what's most important to you. Which leads us nicely to our final point…
Priorities – Ultimately, your wedding day comes down to what YOU want as a couple, so draw up your wishlist and try to ensure your venue aligns with that vision. So is onsite accommodation a must for multiple-day celebrations? Do you want on-hand assistance or limitless freedom to DIY your heart out? Or is having a sentimental site for your tipi wedding your numero uno?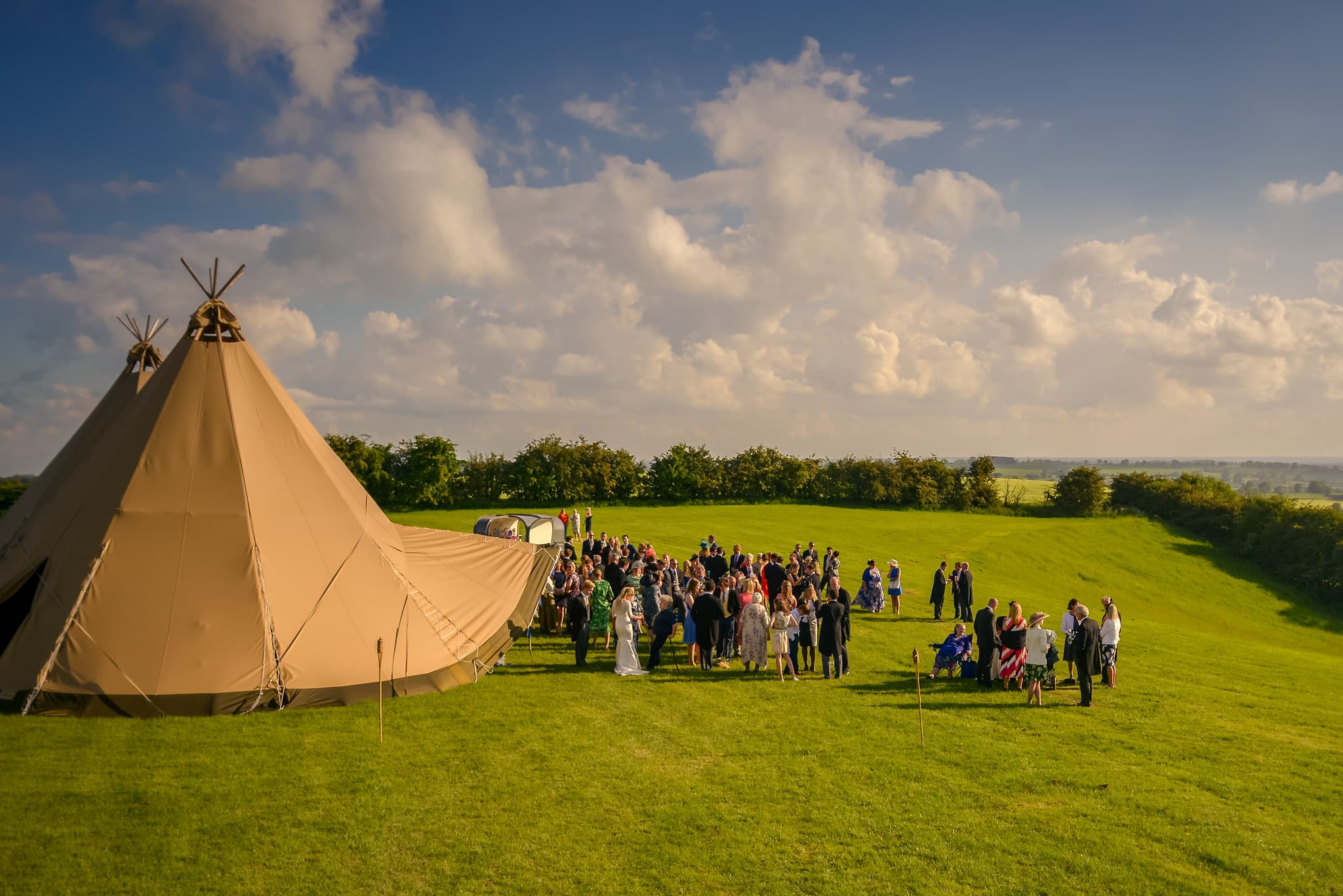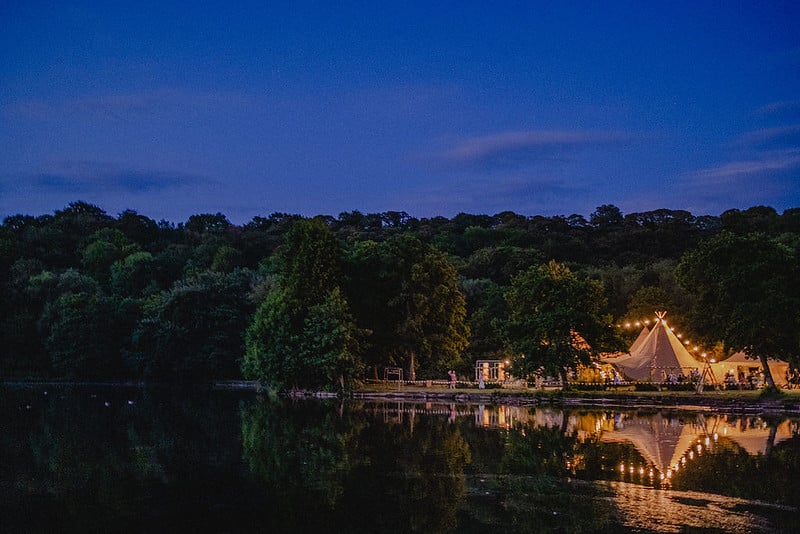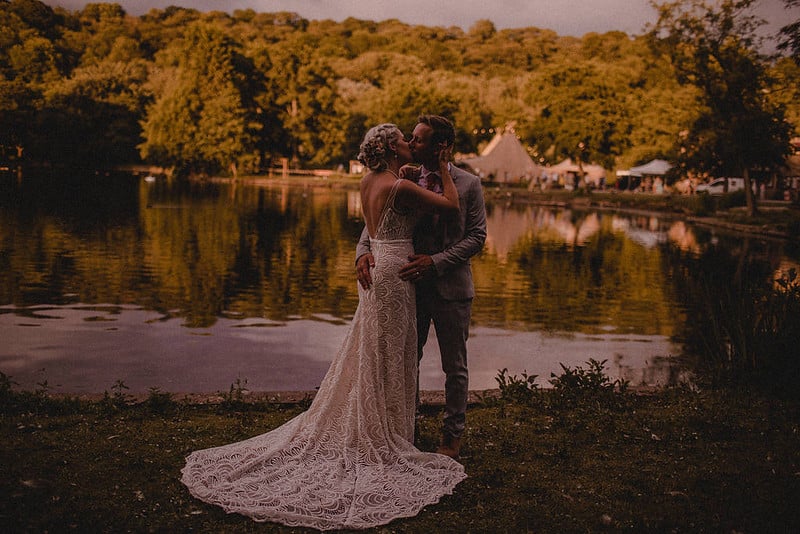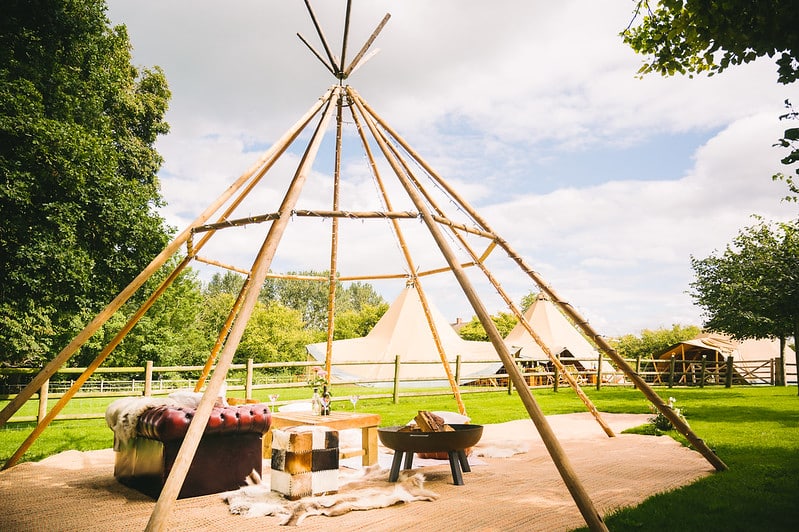 How We Can Help Find Your North West Tipi Wedding Venue
We don't like to boast (ok, maybe a bit!), but our little black book of recommended North West tipi wedding sites and venues is pretty damn epic!
Being located in Cheshire means we've built up an invaluable list of a-ma-zing wedding venues to suit all styles and budgets across Manchester, Cumbria, Shropshire, Wales, Lancashire and Merseyside…and we're buzzing to share them with you!
So, tell us your tipi wedding wishlist, and we'll deliver irresistible venue options to help power up your big day vision and whittle down your site search. Furthermore, once you discover that special place that makes your heart skip a beat (and do multiple somersaults!), we provide the following services to make sure its a venue match made in tipi wedding heaven:
Site Visits

– If it's a venue we've not worked at before, a member of the Tipi Unique team will visit the site to ensure it's suitable for our tipi wedding tents and your big day wishes before you sign on the line.

Site Plan

– Once you've found that perfect celebration spot, we'll work with you to draw up a site plan, showing exactly where everything will go, including the angle of the tipi(s) and what the backdrop/outlook will be.

Bringing it Alive at Night

– Beyond the Golden hours, is the gorgeous Twilight hours, and boy do our tipis dazzle in this light. We'll help you add gorge matted routes from A – B, and enhance the evening vibes with ambient festoon lights to guide guests – stunning!

Supplier Sourcing

– For sites light on the facilities side, we'll help shoulder the planning load by providing you with access to our heaters and power provisions, and sourcing toilet units from our trusted contacts and all at outstanding rates. Not to mention hookin' you up with other awesome wedding peeps (whatever, your heart desires, we'll know just the company).
No matter which venue, location or setting you choose, let our tipis take centre stage (after yourselves, of course!), and we promise unique big day celebrations that'll blow your guests' socks off!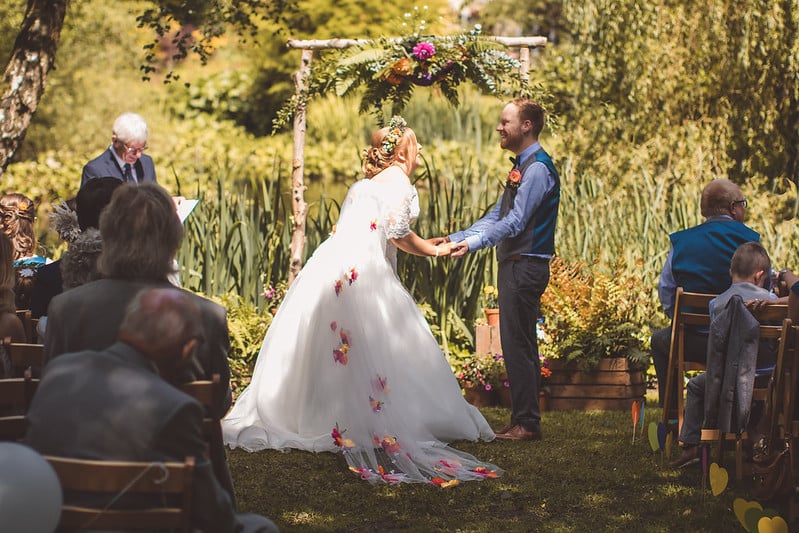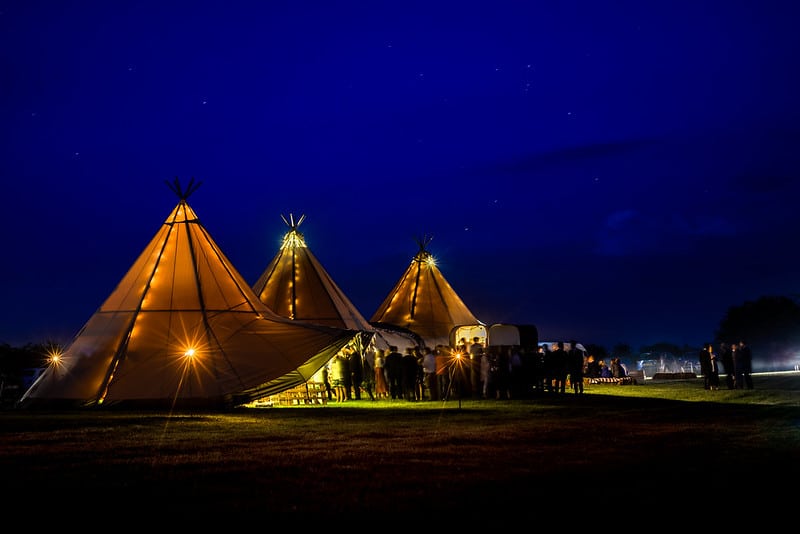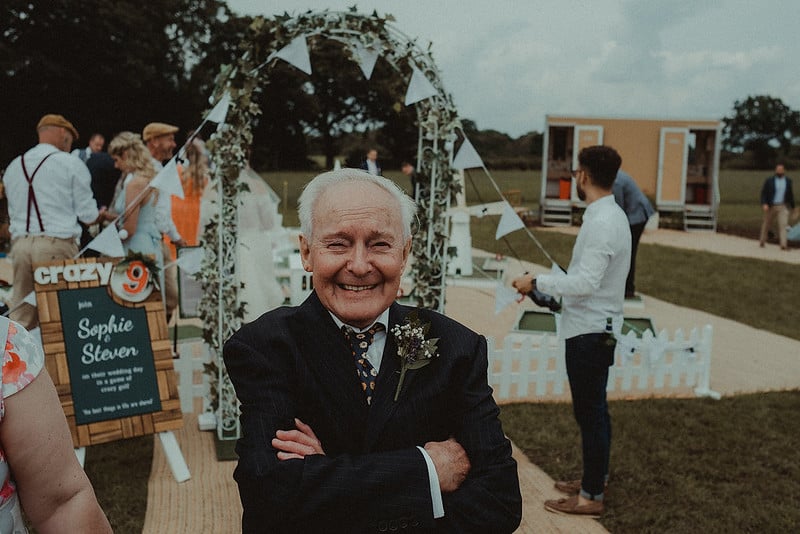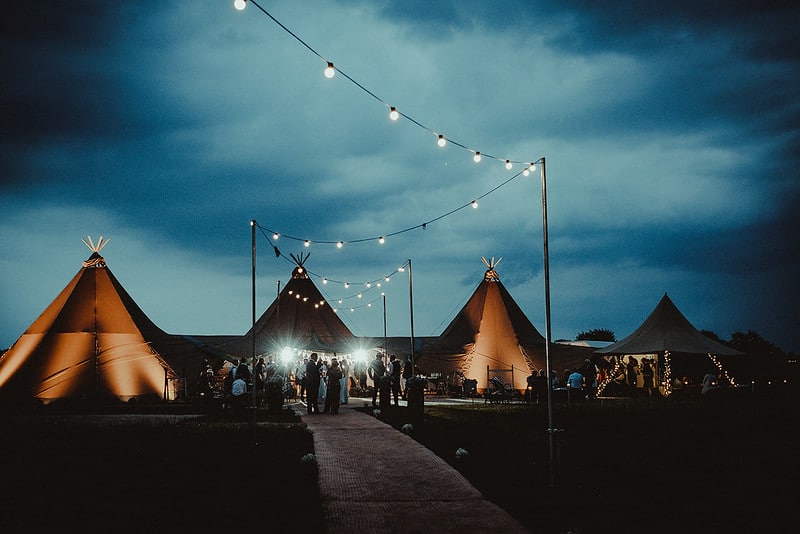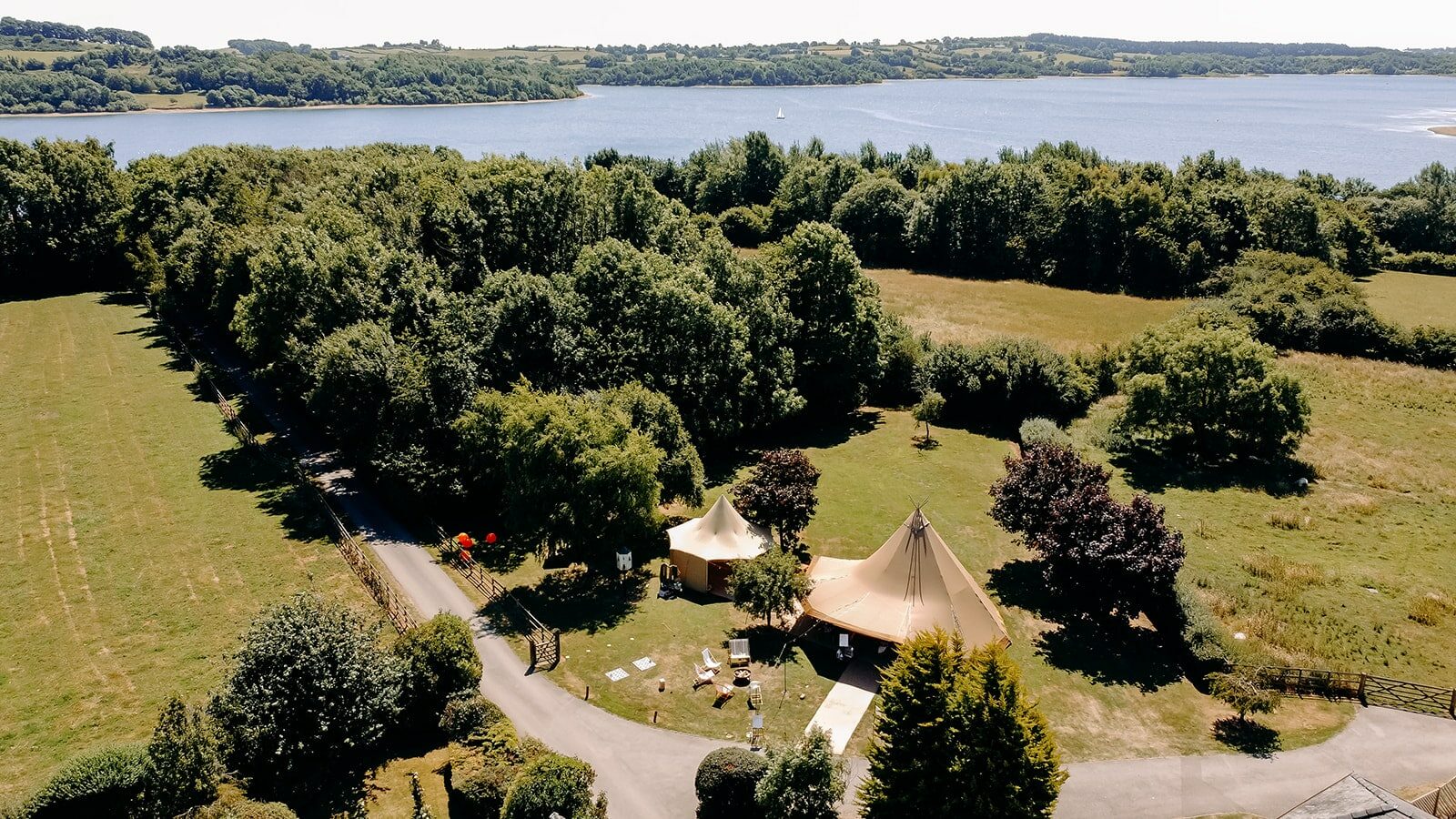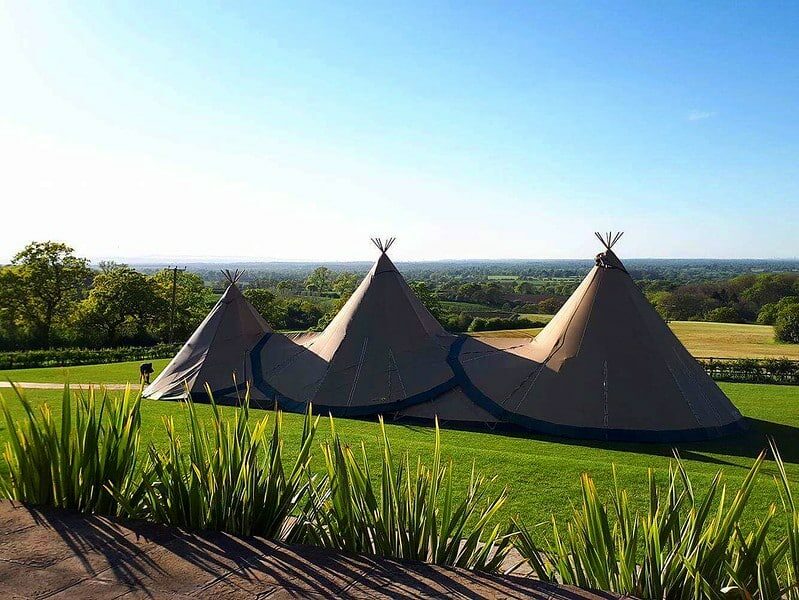 Look out for a post on 'Our Top 8 Tipi Wedding Venues In The North West' coming to the blog soon! And a brand new furnishing brochure showcasing our 2022/2023 additions to make your day even more amazing. If you've got a question for the team or want us to bring our unique tipi magic to your wedding celebrations, then simply fill in our contact form, and we'll get back to you in a jiffy!