If you're stuck for inspo, you've come to the right place!
With the excitement that comes with planning a winter event, also comes a little bit of mind block. The amazing thing about our tipis is that they can come as a blank canvas, meaning you have the scope to style them to any theme imaginable.
You just can't beat our tipis for milestone birthdays, baby showers, kids parties, family get togethers, office dos or festive events. With October – December being marathon months for many social engagements, we are confident that a tipi event will help you celebrate in style. Not to mention providing a great excuse to drink plenty of booze and dance the night away… although it doesn't take a lot of tempting!
So to make things easier, here is a heap of budget friendly themes/décor that won't break the bank, and will definitely highlight your winter-inspired ambience.

1. Winter woodland theme:
This is a beautiful theme idea that incorporates deep green tones, frost-bitten trees, and vibrant reds and golds.
When we think of a tipi winter woodland event, it conjures up images of snowy fir trees, earthy browns and rustic décor. This theme should look to emulate a mystical winter forest – take inspiration from famous fantasy lands such as Narnia.
Choose a venue with surrounding woodlands (we can provide some amazing contacts), to really set the scene. Wow your guests with our festoon lights, which can be swagged across the trees to create an enchanted woodland entrance.  Dress our matted walkways with plenty of pinecones, acorns, candles and other forest-inspired elements – all of which are cheap and extremely easy to find!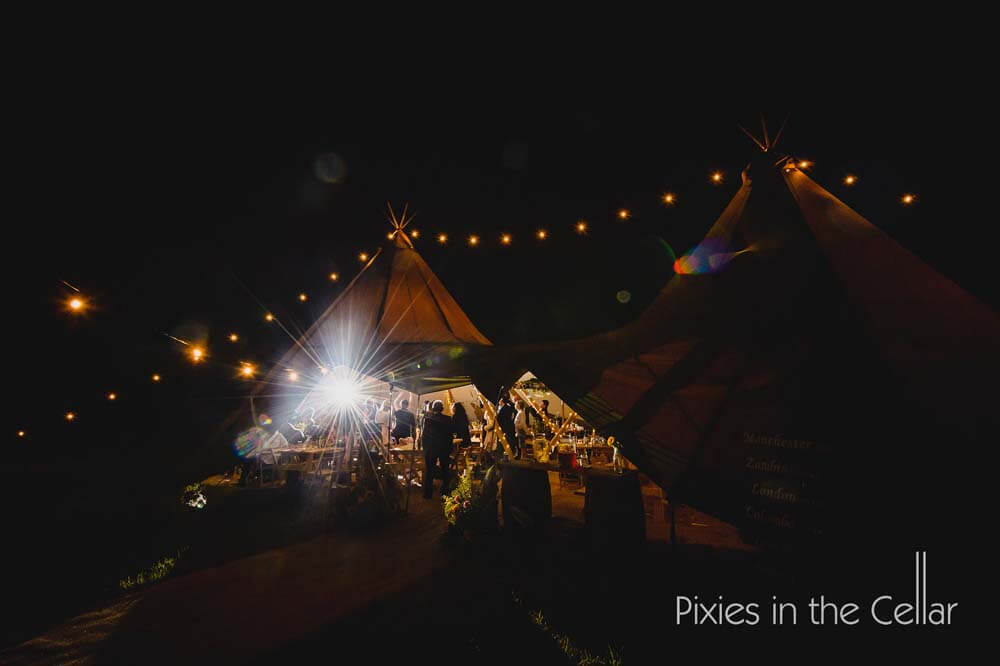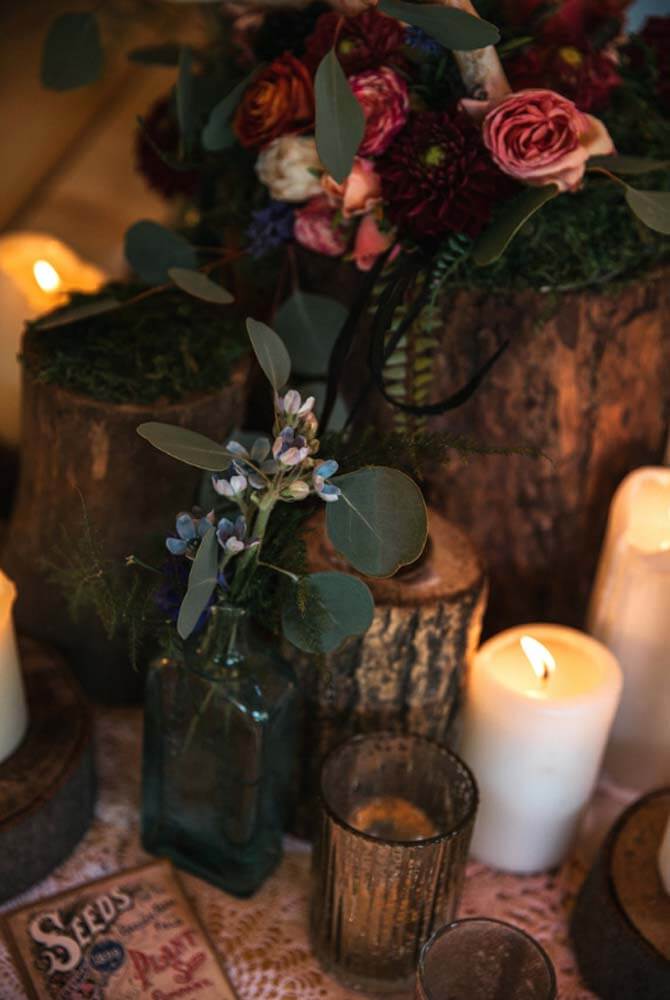 2. Halloween parties:
Okay so we've all been to those completely unoriginal, uninspiring, and unimaginative Halloween parties. Why not break the mould and deliver the most amazingly unique, and enjoyable experience for all guests? Whether you want a completely extravagant party, or just to be that little bit different, a tipi halloween party is the best way to achieve it.
We are talking tipis styled with Jack O' Lanterns, tombstones, smoke machines/dry ice, waxy candelabras, and other halloween themed props. Create your own haunted house (or tipi), with hanging cobwebs and spiders, skeletons, blood-splattered décor and unsettlingly eerie UV lighting. You can even stick glow-in-the-dark stickers to the tipi poles, and cover the floor in crunchy autumn leaves and twigs!
Provide guests with spooky cocktails and canapés upon arrival, and increase the scare-factor by dressing our wooden double doors to create a creepy entrance. Serve drinks in black cauldrons, and pay homage to The Rocky Horror Picture Show by participating in the Time Warp dance.
This theme encourages guests to get creative with costumes, so no half-hearted ghost outfits – ensure entry is only permitted to those who make the effort!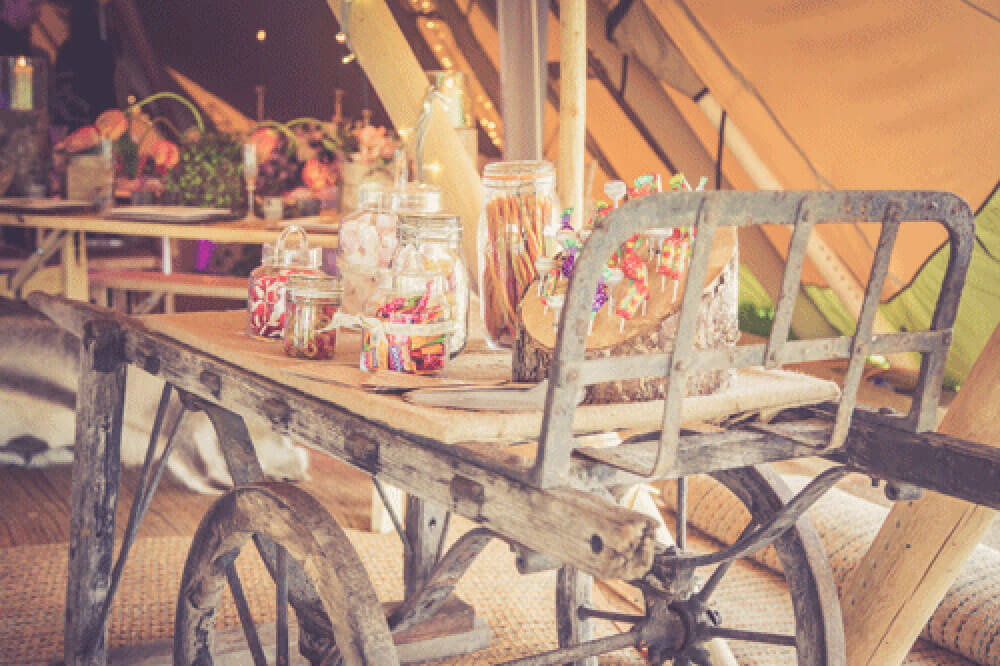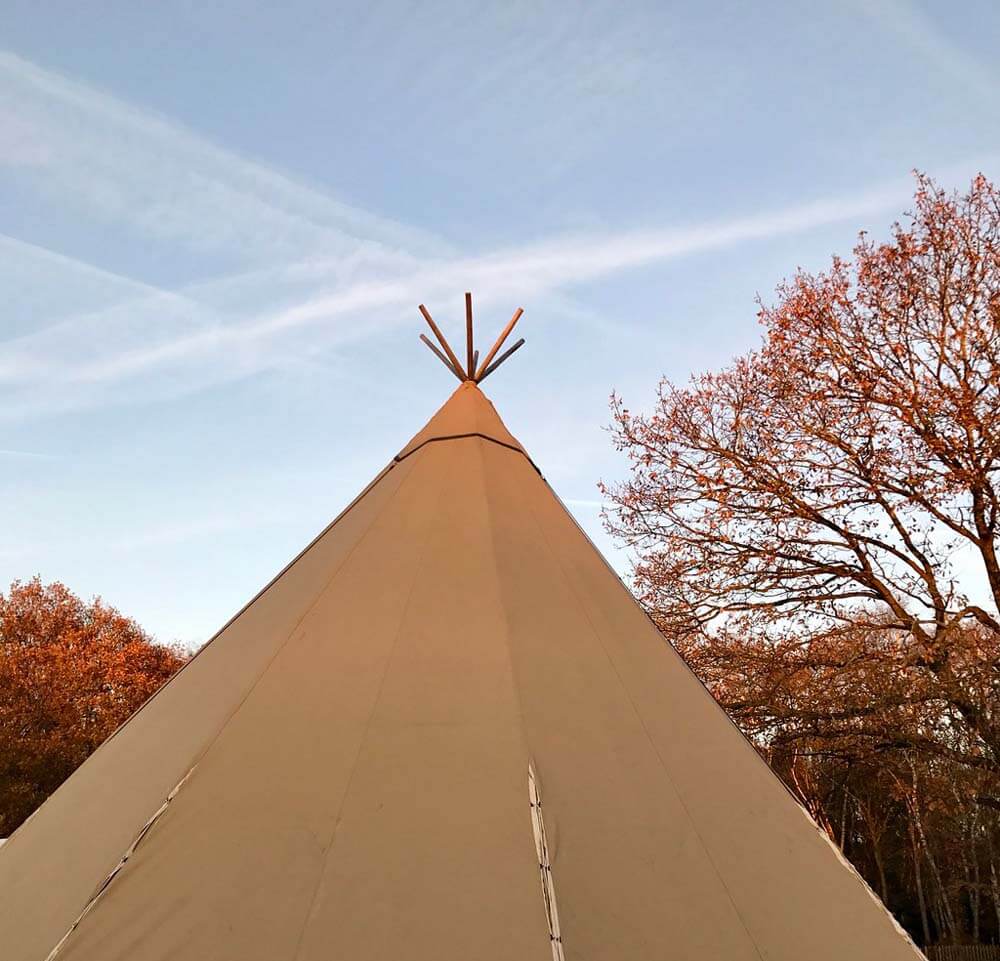 3. Ski chalet theme:
Over the winter months people often jet off to get their fix of snow, mountains, and adrenaline. However it's not essential to visit the slopes to enjoy an après-ski party, you can have your very own chalet-themed celebration without having to leave the UK.
This theme creates a very wintery and chic atmosphere, so give guests the ultimate alpine experience by hiring our fire pits, reindeer skins, rustic furnishings and fairy lights. Create a soft glow with our innovative lighting systems, and ensure the fire is always stoked to surround guests with that warm cosy feeling. Feel free to decorate your tipis with anything and everything après-ski, such as antlers, sledges, festive wreaths and foliage.
Transport guests to the slopes with an obligatory snow or foam machine! Create memories by competing against friends, family, or colleagues on a hired-in snow boarding machine. To ensure everyone is super relaxed, why not hire an inflatable hot tub? They are actually very affordable, can be located anywhere inside or outside the tipis. This, along with warming food and a great supply of alcohol, is bound to go down a treat with all guests.

Winter flavours:
We can probably all agree that food and drink is one of the most important aspects of any event! So here's a few tasty ideas to keep guests satisfied at your winter tipi event…
– Hearty stews and warming soups
– Hog roasts, and large joints of succulent meat served buffet style
– Swiss fondue and cheese boards
– Vegetable lasagne, crisp salads and sweet potato fries
– Use edible glitter as faux snow or fairy dust
– Sweet stations such as s'mores bars, chocolate fountains, and crepe vans
– Craft beers and mulled wine
– Spiced rum and Irish coffee
Also, if you are holding a winter food and drink festival, please get in contact as we'd love to provide the structures for your event.

4. Themed children's parties:
Does your child want to have the best birthday party of the year? Do you really want to avoid incurring some hefty bills? Well listen closely as we share some fab theming ideas that are extremely budget-friendly…
Santa's grotto – see 'Christmas grotto theme'
The Nutcracker theme – Think snowflakes, sugar plum fairies, Christmas trees and nutcrackers of course!
Polar bears and penguins – Style your tipis with arctic inspired animals, blue lighting and foam machines.
Fancy dress – Have the kids dress up as mini ice princesses, Jack Frost, elves, snowmen, and Santas. This is an easy theme to pull off with most supermarkets selling some great outfit choices.
Frozen theme – A popular film with girls (and boys), so why not incorporate it into your child's party! They could even provide a youthful insight to the theme with their extensive knowledge of the family-friendly film!
We know that it can be difficult to choose a party for those born in the colder months, especially with the weather hindering any outdoor activities. Our tipis and furnishings stay at the same price throughout the year, and are extremely durable so can withstand harsh winter conditions. Both of these facts together prove that tipi birthday parties are more affordable and practical than you'd perhaps first thought.

5. Winter wonderland theme:
With this theme you can go as OTT or as subtly stylish as your heart desires.
This theme is largely suited to the festive obsessed amongst us – you could go all out Lapland and design a magical Christmas tipi that would do Santa proud! With so many structures and an endless supply of accessories, you are in complete control and are limitless as to what you can achieve.
Our unique rustic furnishings complete with exclusive bar accessories will help to set the tone for your wintery event. Style our furnishings range with baubles, fairy lights, wreaths, ribbons, and candy canes galore – the more the merrier!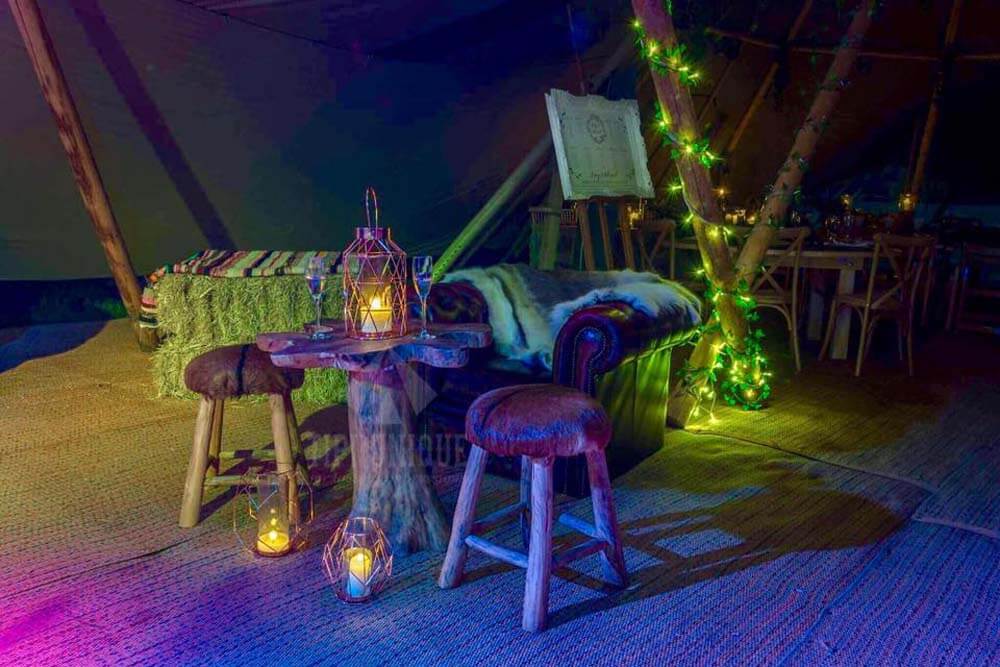 Binge watch popular films such as The Polar Express, Elf, Santa Clause The Movie and The Lion the Witch and the Wardrobe to steal styling ideas. An activity that we are sure all the family will enjoy!
Many decorations for a winter wonderland event can be sourced from your very own attic – bring down the tinsel and wrapping paper, and leap giddily into the world of DIY Christmas decorations.
If you'd prefer to make a classy nod to the season, then why not opt for a crisp white colour theme? By channeling all things elegant and delicate (much like a tiny snowflake), you will be on the right path to throwing the most glamorous winter celebration ever.
Place large lanterns in the door ways of our tipis, and style our hanging displays with deep green foliage and red winter berries. Cover our hand-crafted wooden arches in your DIY decorations, and smother them in glitter, snowflakes and tulle ribbons. You don't have to be Christmas mad to execute a gorgeous tipi winter wonderland event!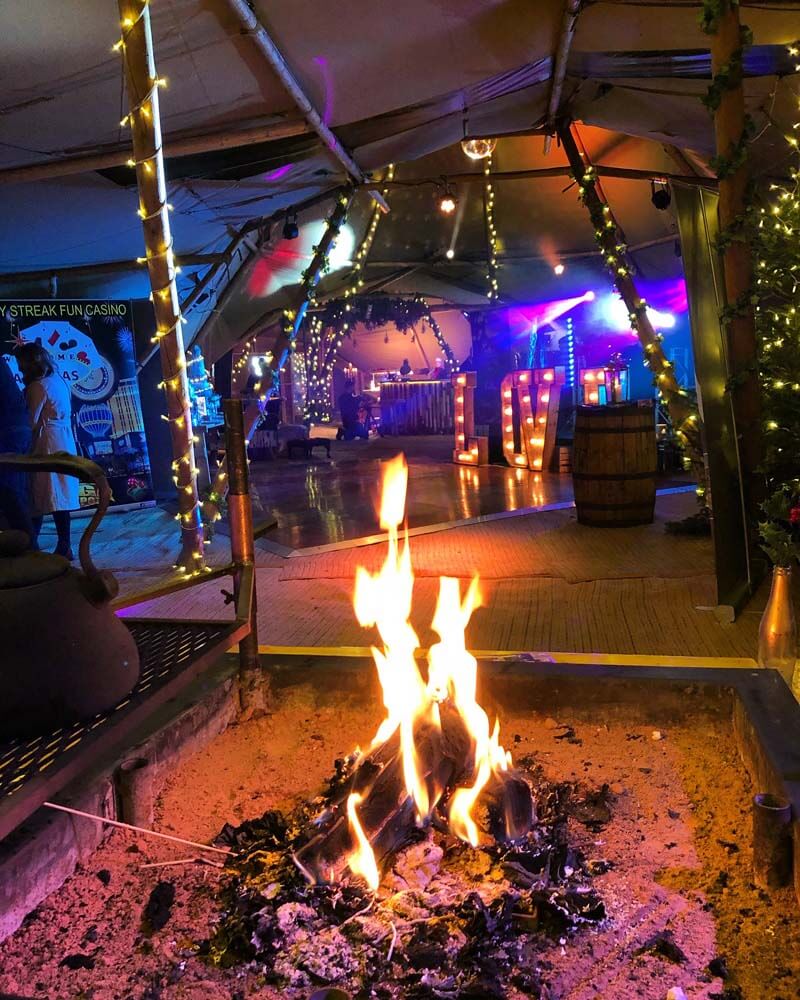 6. Ice bar parties:
If you're more about the alcoholic things in life, and if you just want to throw a really good party, how about turning the tipis into your very own ice bar?
Start with the lighting! We can create an icy atmosphere through the use of our cool lighting systems – using blue colour splashes to complement the frosty tone of the bar.
Provide guests with capes, gloves and wooly scarves – or tell them to come prepared if you aren't feeling quite so generous! And drape our traditional reindeer skins over chesterfield sofas and wooden benches. This will really help you to celebrate in true winter style, whilst making sure all guests are kept toasty and warm. We would of course provide heaters, and we really would recommend this unless you want to subject party goers to an authentic ice bar experience!
After you've styled our rustic bar accordingly it's time to get the drinks in (YAY)! Stock up on premium spirits like Vodka and Gin, as well as Baileys and beers. Be sure to serve all beverages in frosted glasses to replicate the frozen water glasses used in real ice bars.
Tipi Unique will ensure that you have the coolest bar around – pun totally intended!

7. Christmas grotto theme:
You might not be able to bring the kids to lapland, but you can 100% bring lapland to the kids! With our knowledge of tipis and our experience in winter events we know exactly how…
All of our smaller tipis lend their hand to becoming a pop-up tipi workshop. Have people dress up as elves and include party games such as pass the parcel, and 'Pin the Tail on Rudolf'. Keep the children entertained by toasting marshmallows on the fires, and by creating their very own Christmas tree decorations.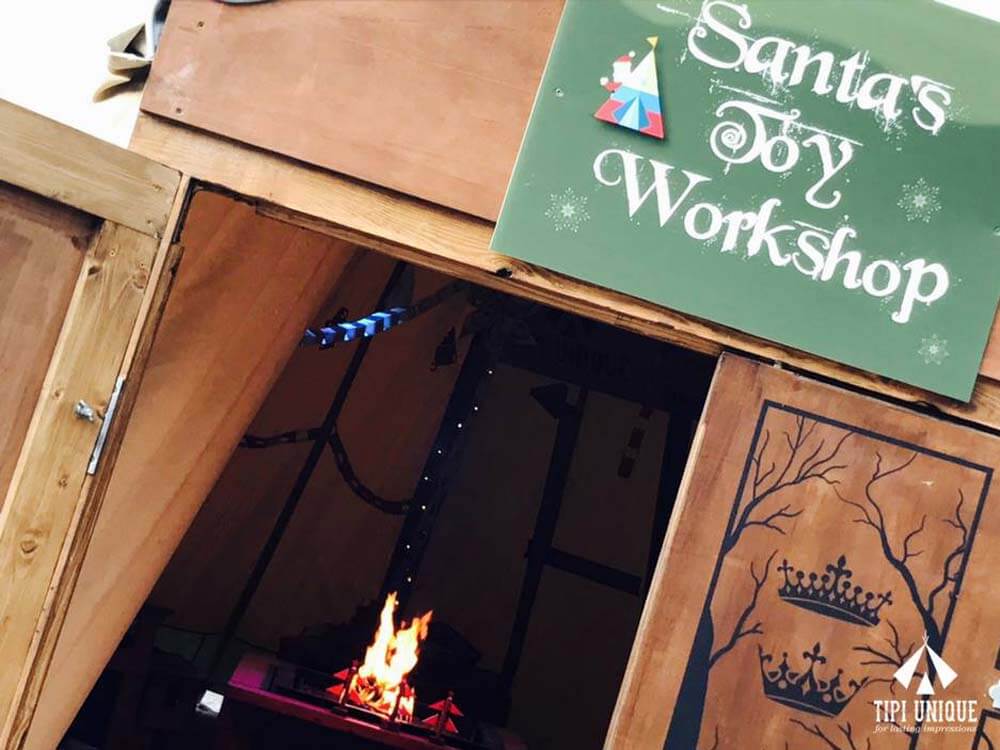 8. New Year's Eve tipi events:
Probably one of the best things about this time of the year is that (apart from Christmas), it's one of the only times we get together with families to indulge in jubilation and celebration – making it that extra bit special. Just imagine throwing your own tipi NYE bash surrounded by your nearest and dearest, as you look back at fond memories and eagerly anticipate ones to made in the future.
This is a winter theme that just screams glitz and glamour, so you'd expect it to cost a fortune right? Wrong. No matter what your budget, or how extravagant you want your party to be, we have plenty of money-saving tricks up our sleeve!
It's super easy to achieve a memorable party with DIY décor, and if you're looking to add some classy sparkle to the occasion opt to hire our disco ball and fairy lights. They are sure to add a gorgeous twinkle in every corner of the tipis, and maximise the party experience on the dance floor.
Bring back the roaring 20s with a Gatsby themed tipi event! Conceal our 6m catering tent to create your very own forbidden speakeasy – exclusive to your guests only. Set the dress code to 1920s, and watch excitedly as guests arrive clad in tuxedos and flapper dresses.
Another extremely popular New Year's theme is a masquerade ball. Think long gowns, suits and elegant cocktails such as cosmos and martinis. Serve fizz and h'orderves upon entry, and get all guests to pose inside a photo booth before proceeding to the party.
No matter how you plan to style your New Year's Eve tipi party, it is essential to welcome the new beginnings with a great big glass of bubbly!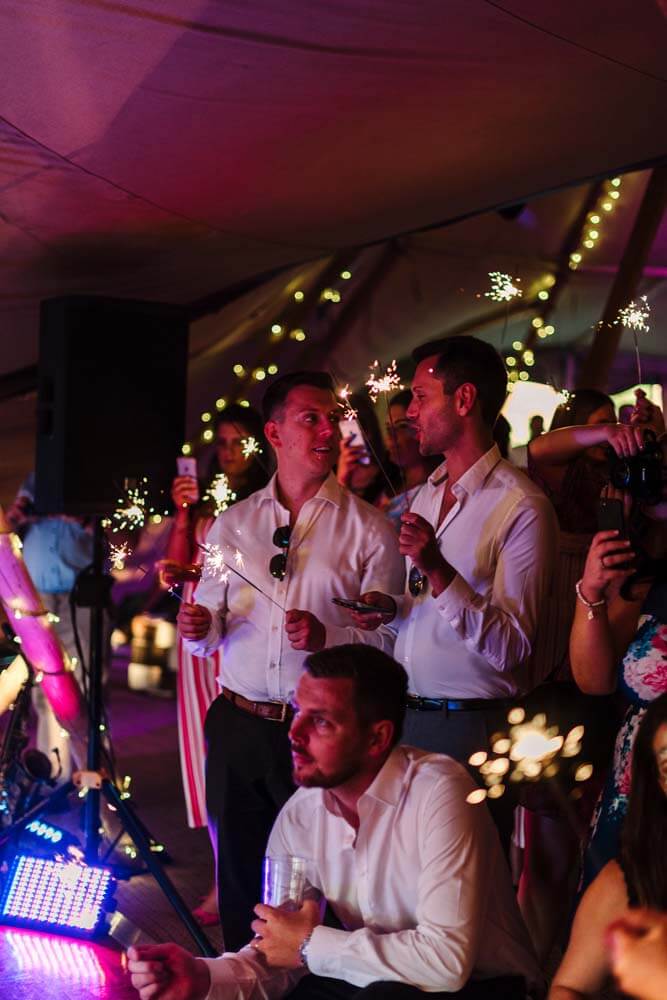 Winter colour schemes:
Selecting a colour scheme is one of the best ways to pull off an incredible winter event. The tones you choose will add to the vibe and atmosphere experienced by your guests.
This is something where you can of course go as crazy as you want, and can incorporate the colours into every aspect of your tipi celebration.
See some of our favourite combinations below…
Classic combinations of red, green, and gold.
Dark greens and pristine whites, pared with the earthy tones of our wooden accessories.
Blue, silver, and white creates the ultimate icy atmosphere.
Shimmering silvers and golds.
Dark eggplant purple and hints of rose gold.
Burnt oranges with muted crimson and lemon to capture a classy autumnal feel.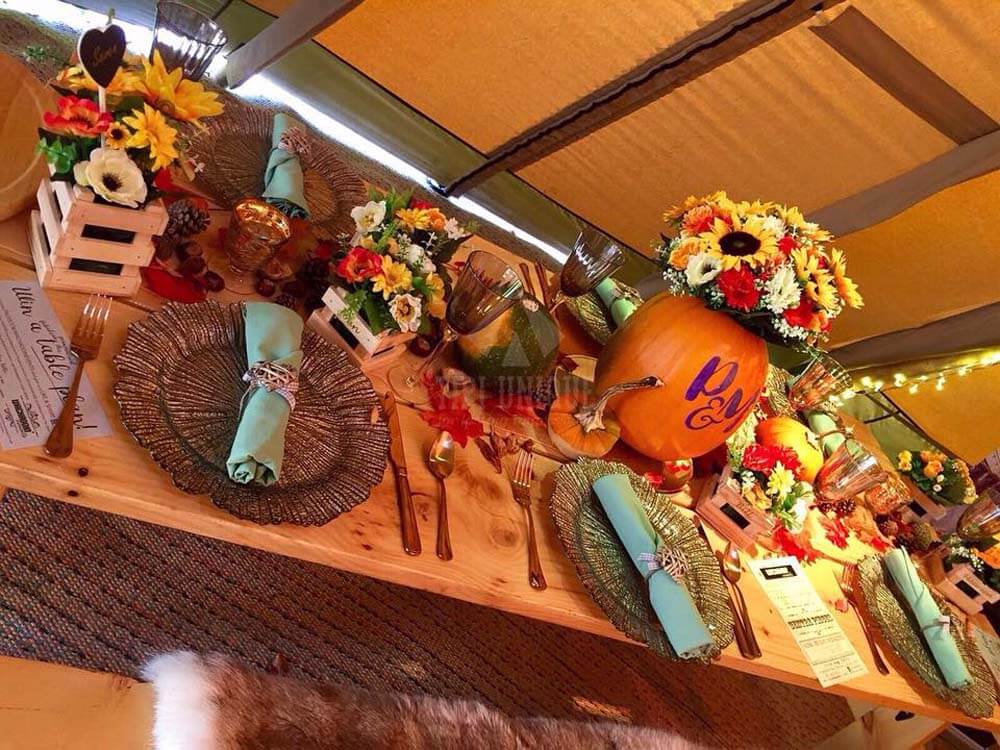 Don't worry about the weather!
Yes the winter weather can be miserable, but that doesn't mean your tipi party has to be! We are experts in all things outdoor tipi events, and know how to pull them off to an exceptional standard. Visit the section on  'weatherproofing against unpredictable conditions' to learn how our tipis are the most amazing venues all year round.
Let Tipi Unique help to plan your perfect tipi winter event…
We love winter events just as much as summer ones! As mentioned earlier we are experts in outdoor winter events, and absolutely adore inspiring clients with our creative ideas and fabulous tipis. So please get in touch with us if you've got some wintery plans – no matter how big or small!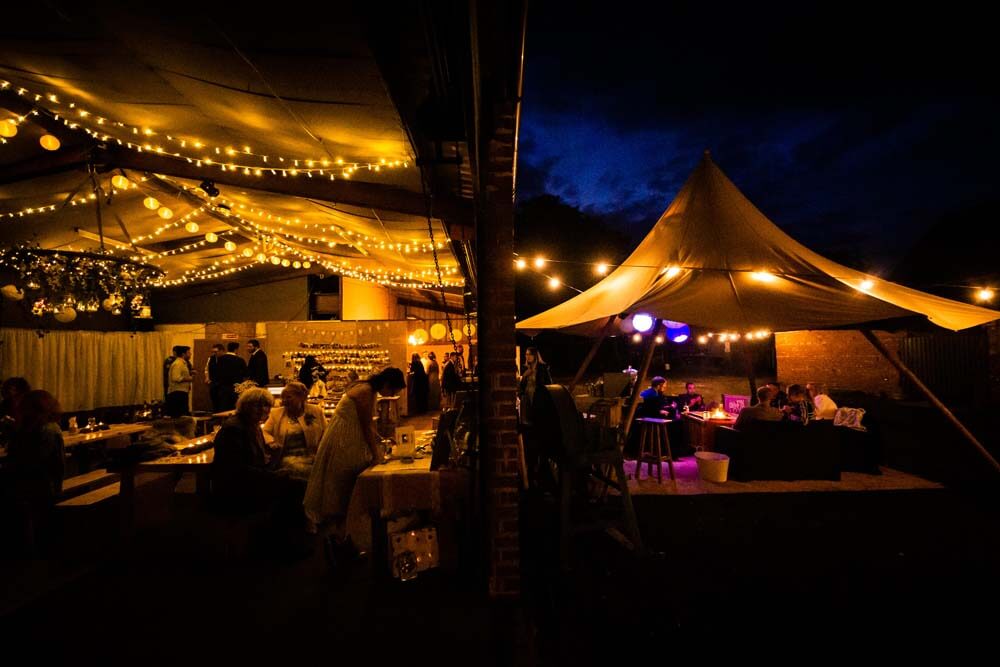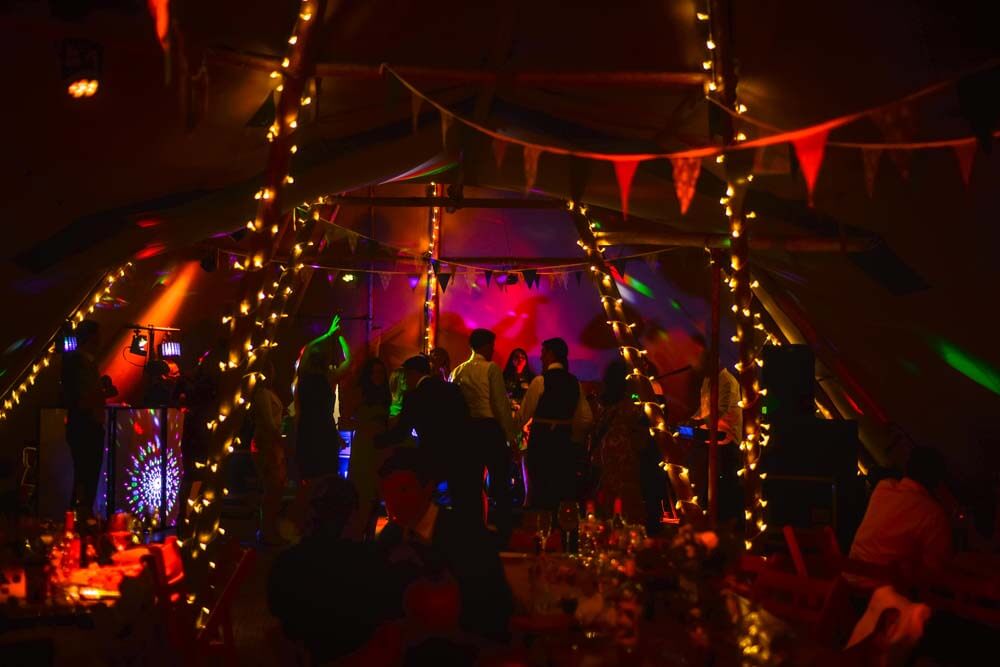 Our very best wishes
Tipi Unique x