Hi everyone! It's been a little while since we last blogged, but we are back and ready to talk all about our fab range of table and chair hire. All products are available for any type of event, any time of the year.
We hope to provide you with enough inspiration and ideas to put an end to your quest for event furniture hire!
Table hire for events – a variety of gorgeous seating options:
Rustic rounds: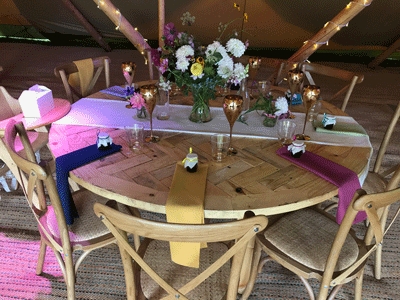 First up we have possibly one our fave furnishings… These beauties are hand-crafted with love, and completely exclusive to us! The rustic rounds are the perfect table to sit around whilst creating new and lasting memories.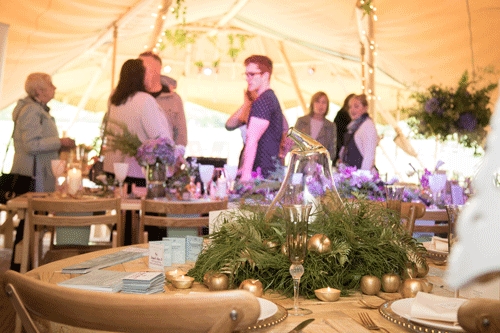 Our rustic round tables are available in two sizes. Our 6′ rustic round tables seat up to 12 guests, and our 5'6 round tables will easily seat up to 10 guests. You can fit up to 8 of these in each giant tipi. They look stunning styled with tall centrepieces, and feel free to ditch the linen as the wooden detailing looks gorgeous as it is!
Rustic long tables: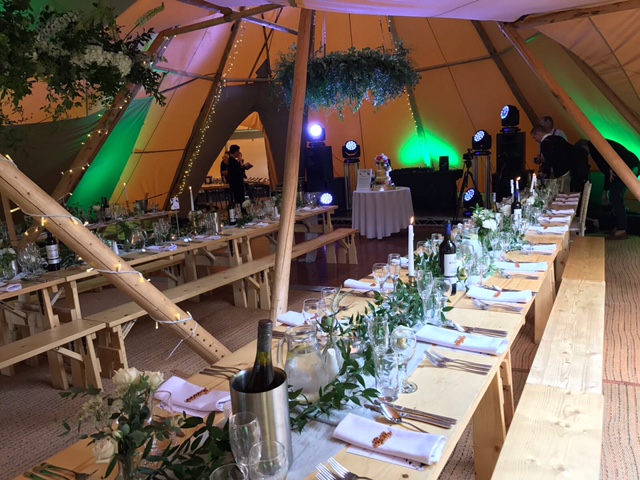 Built with love and care, and made to last! Seating 6 – 8 guests, our long rustic tables are a firm favourite amongst clients as they can be arranged and dressed to create different dining styles.
Due to the flat pack nature of these nifty tables, you can easily transform the tipis from wedding breakfast to evening celebrations! To make the most of your space, choose to position them over the dance floor in the day, and manoeuvre them around the tipis at night.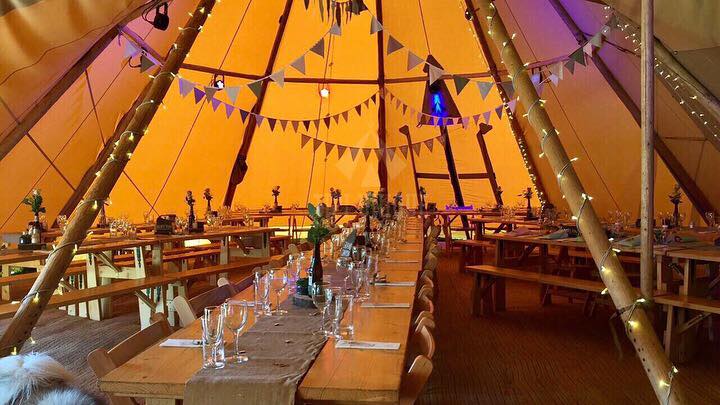 For a banquet vibe they can be lined up in long configurations, and for a more intimate and concise feel, they can be used as individual picnic benches. We just love them as they have so many uses, and also make for the best top tables.
Trestle table hire: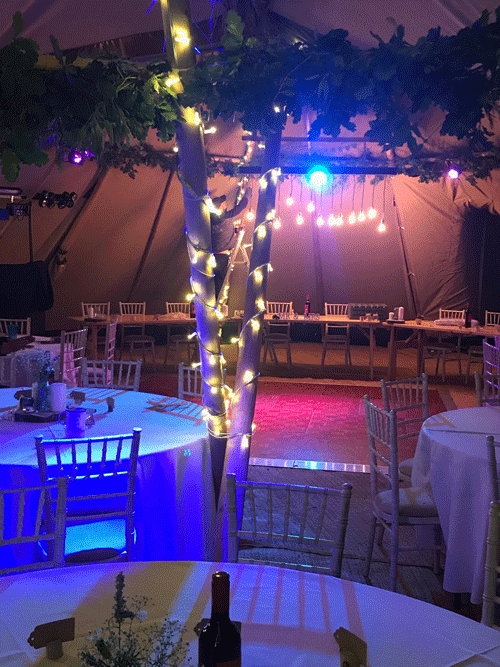 If it's trestle table hire that you are after, then look no further! We can provide you and your caterers with a range of trestle tables in different sizes. They are a great low-cost alternative to our rustic rounds as will also fit 10 to a table.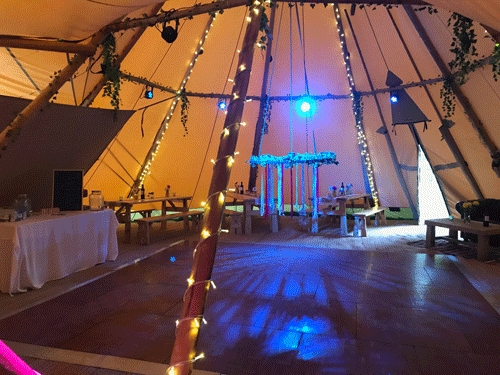 They are a fab addition to any event, proving to be great display tables for food and drink or gifts! ​As they require linens, this provides another opportunity to decorate according to your event theme.
Cocktail table hire – poseur tables: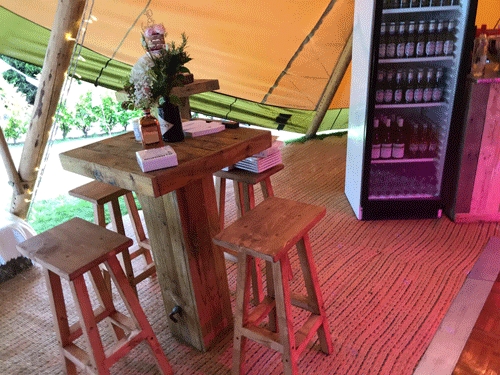 Another product exclusive to ourselves is our poseur tables. Hand-crafted by our amazing team, these tables are a wonderful alternative to the traditional glass/chrome poseur tables.
They effortlessly allow you to create casual seating options, encouraging all guests to mingle, connect and share the experience of your special event.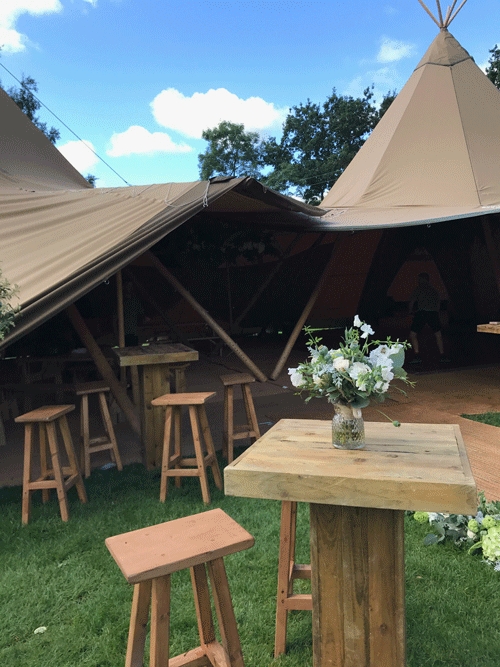 Positon them around the entrance of your venue, dance floor, and bar. This will help you to achieve multiple relaxed seating areas throughout your event.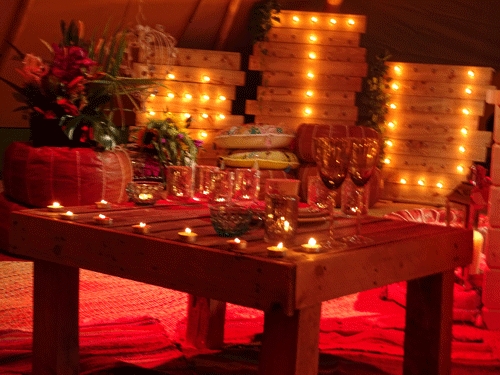 If vintage furniture hire is up your street, how do our pallet coffee tables suffice? They are an item which is extremely in keeping with the shabby-chic trend, whilst still being a practical, low cost addition to any event.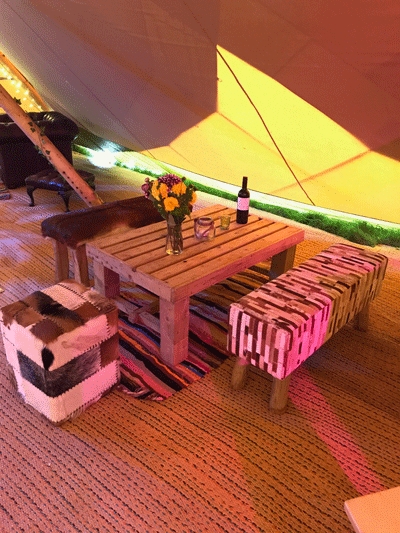 They provide a fab addition to your chill-out area by giving guests an area to relax around when taking a break from the dance floor. They are also another great place to add the personal finishing touches and decorations which make the event unique to you.
Chair hire for events – to take the weight off your feet:
Wooden cross-back chairs: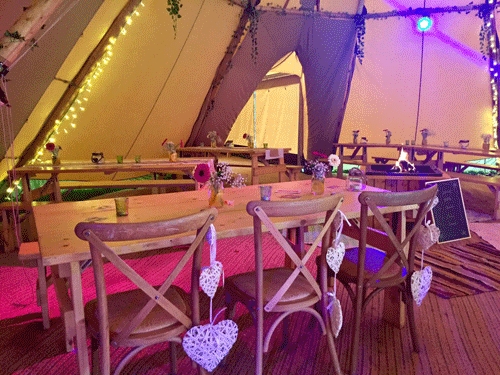 A new product for 2017, they are the hottest chairs in town! These delightful cross backs have been causing quite a stir, and are by far the most popular chairs amongst clients.
They are super easy to decorate – if needed we can offer loads of ideas for dressing your seating arrangements!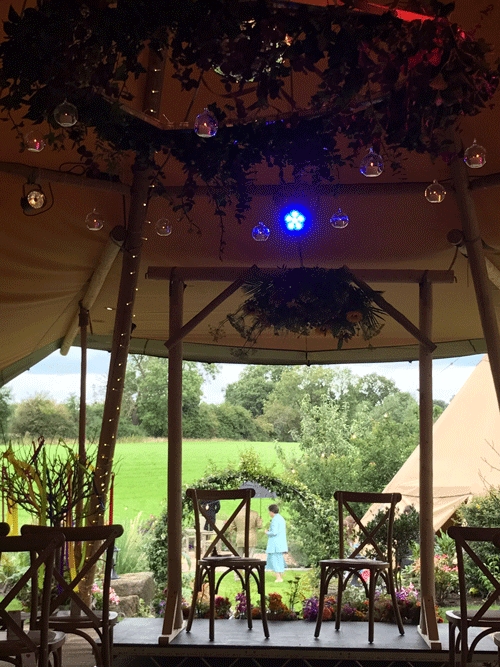 Complete with a woven seat pad, they are a wonderful choice to tie in with your rustic-luxe theme, whilst still offering a natural element to your tipi event. ​
Wooden folder chairs: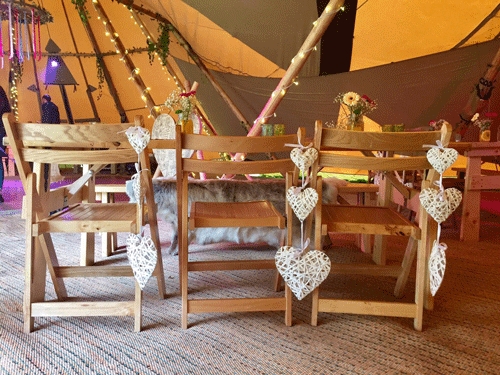 Another beautiful choice of wooden chair. They are practical, comfortable and look great with any tables. The wooden folders are a slightly cheaper option, but still offer amazing quality and a comfy place to sit.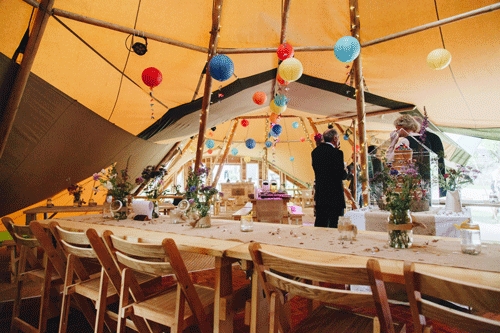 If you hadn't already guessed, they are really easy to fold! Meaning they are perfect when paired with long tables, giving you versatile seating arrangements that are great when switching up your event space.
Chiavari chairs: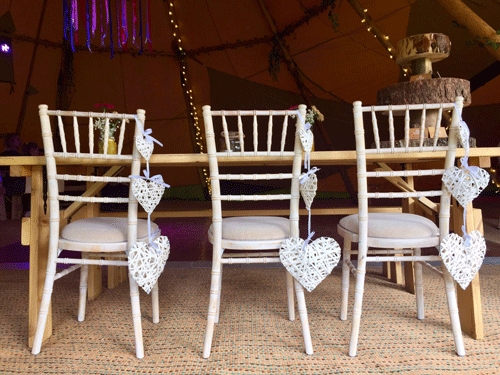 An elegant option for those who dream of having a classy and romantic ambience. If you don't want to use them throughout your space, they add extra glamor to top tables.
The lime-wash chairs come complete with ​an ivory cushion pad, yet other colours/patterns are available – even leopard print!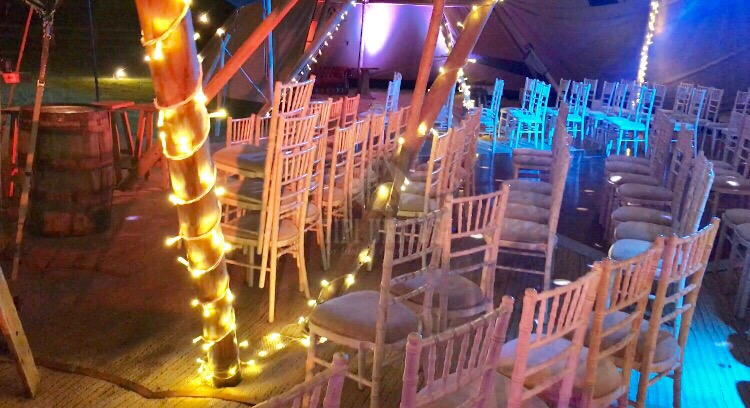 Don't be fooled by their delicate appearance, as these little gems are incredibly sturdy. They are also the only chairs that fit 4 per side to our long tables, meaning that they are a practical option for larger guest numbers.
For those who need a large quantity of ceremony chairs, our beloved chiavaris lend their hand to creating stunning seating options. Their narrow shape offers loads of scope for having everyone around to watch the highlighly anticipated "I do's".
Picnic style bench sets: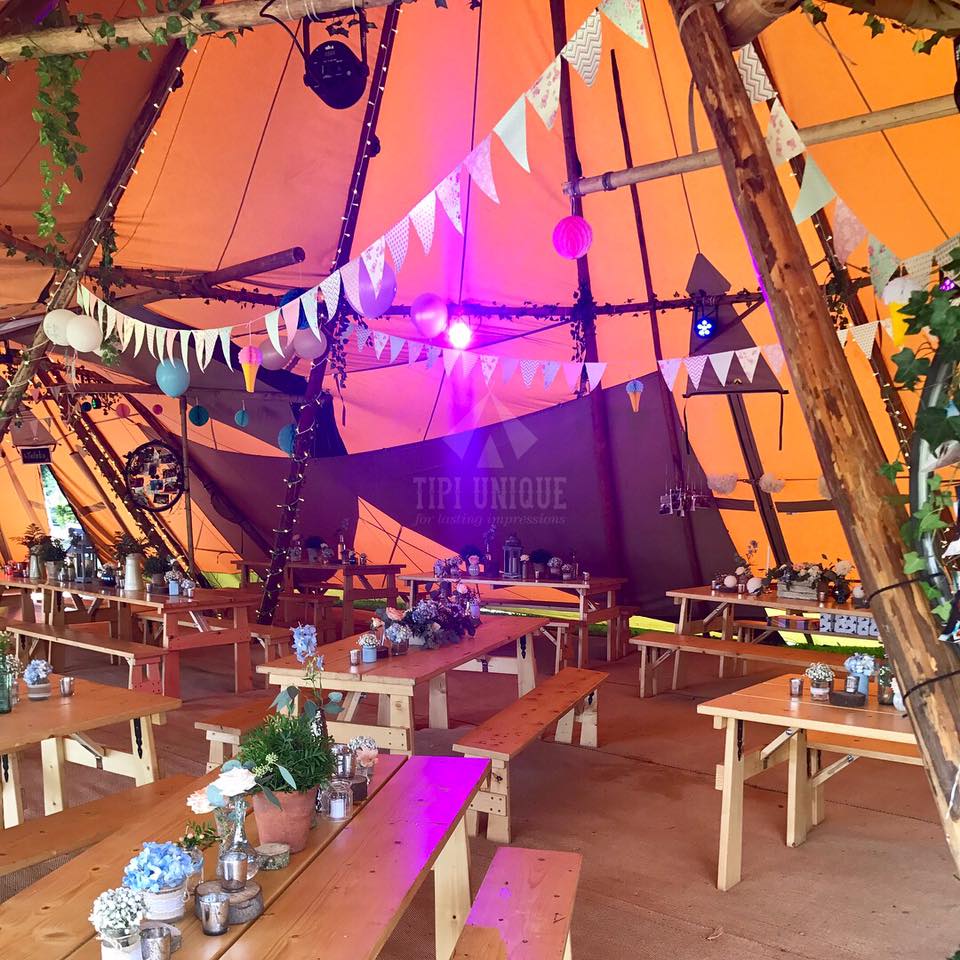 Our wooden benches can be paired with the rustic long tables to achieve a picnic style dining arrangement. This is a fun and quirky option for those who'd rather have a more relaxed experience.
To add a little luxury, why not throw our reindeer skins over the benches? They are soo warm and extremely soft​, meaning they are a really useful accessory.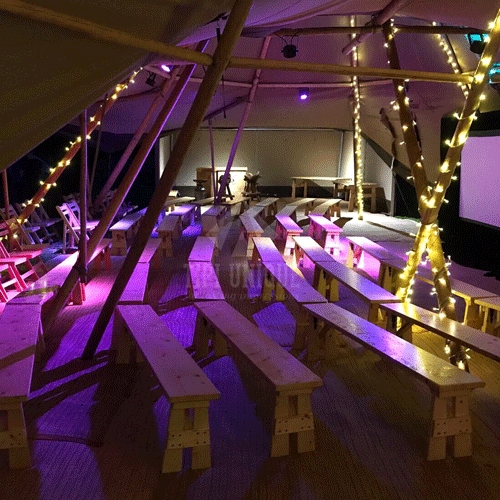 As with all of our other furnishings, our benches can be moved around to create many different atmospheres. We have seen them used as ceremony seating, memorial seating and more. Due to their slender shape, they can be angled to go across any tipi structure, and really do allow people to get together and soak in those precious moments.
For the little ones: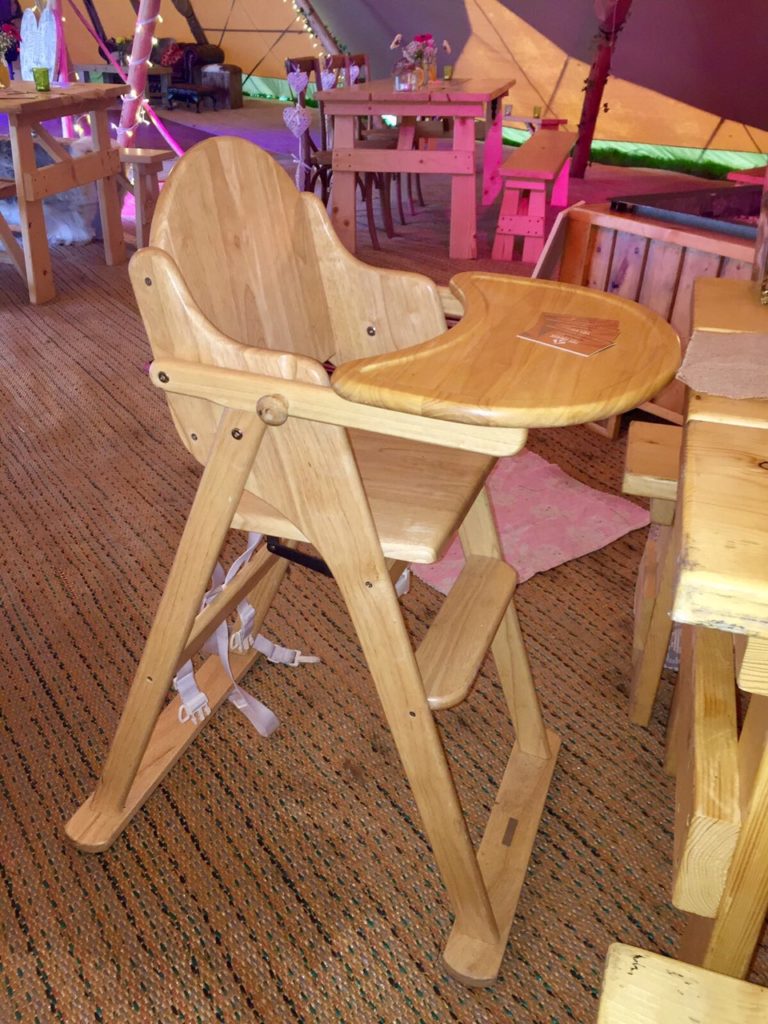 Those of you with kids will know that it is so important to find them somewhere appropriate to sit. You need something not too tall or small, something where they can reach the table and be involved with the fun and laughter.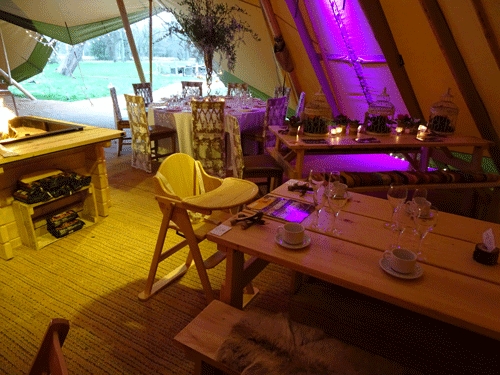 With it's very own safety fasten, food tray and foot rest, our wooden highchair is just perfect for children over 6 months. They can be positioned anywhere on the table, and gives kids the independence they need. It keeps them safe and secure so you can also enjoy your meal.
Beautiful bar stools: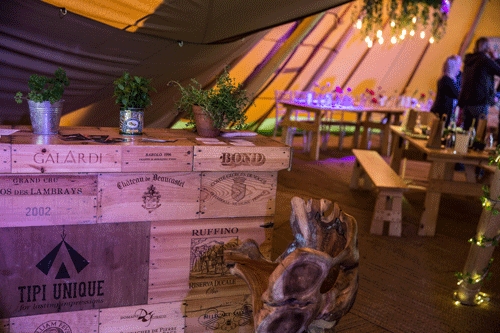 With a range of bar stools to hire, we can provide seating for any drinking or chill-out area. Chose between a selection of one-off pieces to add style flair and interest to your bar.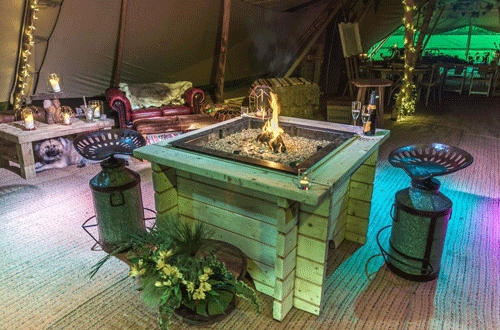 Click here to view the other brand new chill-out furnishings! They look amazing when used with our bar stools, and together they make the ultimate cosy combo!
Whether it's wedding chair hire, party furniture hire, or rustic table hire you are searching for, we are certain to have something for you! Please don't hesitate to get in touch for prices and more info – we'd love to help.
​Our very best wishes.
Tipi Unique x ​