Lighting hire for your event
Here at Tipi Unique we don't just specialise in providing gorgeous weddings and celebrations, we are also pretty handy when it comes to lighting up your chosen venue.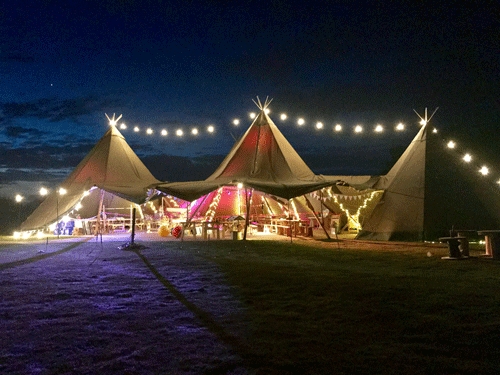 Our range of LED lighting facilities are available to hire for any occasion, much like all of our other products. And don't be shy if you need to admit that you aren't using a tipi! We are happy to provide the lighting for your event, no matter where or what it is.
Continue reading to learn more about how we can help to brighten up your special event…
Festoon lighting hire:
Our LED festoons are a gorgeous addition that have always been a client favourite, and are forever receiving glowing reports! They are so versatile, and look just as striking whether you are swagging them over the tipis, or throughout a woodland venue.
The possibilities are endless…
Create the most dramatic walkways and entrances, to wow guests and instantly make amazing first impressions. Areas like these make incredible backdrops for impromptu weddings pics – especially at dusk or during a sun set.
Available to use at any venue for any purpose – manor houses, barn venues, fields, private gardens, car parking areas, and so many more. There really isn't a cap on where you can put our festoons, and they can even be used as decoration for internal accessories!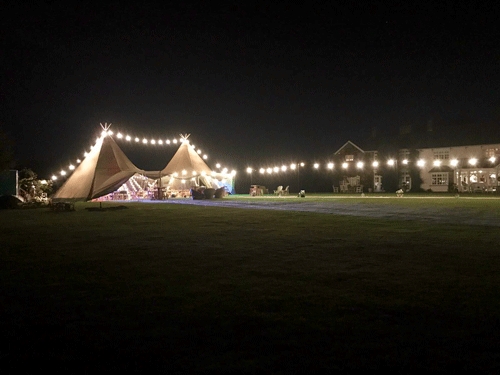 Inspiring, interesting and practical too – they have it all!
Coloured interior lighting:
We really are passionate about encouraging clients to hire interior lighting for their events. We have experienced first-hand how mood lighting lifts the atmosphere and creates an enchanting vibe. It prevents areas from looking too dark, so that guests enjoy every aspect of your venue.
Our interior lights create that party vibe and celebratory atmosphere.
Our innovative lighting kits offer subtle yet warming daytime glows – perfect for those of you who want to add a little something to your venue. We are also able to add coloured lights in any shade from fuchsia pink to pastel blues, and even set specific RGB codes to ensure your theme is consistent throughout. You can use them to highlight certain areas of your venue such as feature tables, florals, guest seating, the dance floor or bar.
But that's not all… Our coloured lights also have more changeable effects than you can shake a stick at! Our personal favourite is the 'change to the beat' setting, yet there are so many more functions such a strobe lighting and colour fade.
With a range of settings to suit, you can create your very own bespoke lighting design.
Fairy lights to hire:
A beautiful addition to any event, and a product we'd 100% recommend hiring. With our fairy light packages, you can really get creative and incorporate them into any part of your event. Try placing them around bars and chill-out areas to complement the soft furnishings with a classy and cosy glow.
A definite must-have addition for your event.
If you want minimalistic event lighting hire, but can't decide what, our LED twinklies will certainly bring an element of simplistic elegance to your event. They can be used literally anywhere, and our team are experts in draping, wrapping and swagging them across any space.
We are just a little bit obsessed with fairy lights and the extra sparkle they bring to a venue – just magical!
Simply gorgeous!
Outdoor flood lighting for events:
Using our LED flood lights is a great way to accentuate your outside space. This is bound to impress all guests, and when paired with our festoons they create the most dazzling entrance – an insta-worthy photo opportunity!
Made for picture perfect photo opportunities.
Illuminate your venue and it's natural surroundings, buildings, or unique features. The coloured effects are beautiful, and can again be set to any shade you wish. We personally love to position splashes of colour in woodland areas, and up the sides of buildings/ our beloved tipis.
Set your floods to complement your colour theme.
Outdoor party lights also serve a practical purpose, as they are the perfect solution to shedding some light onto areas like car parks, walkways, toilets and other essential utilities.
Get in touch to discuss bespoke designs and intricate ideas, we love a challenge so no request is too big for our experienced team!​
Functional yet soooo fabulous!
Exciting developments for 2018:
We are thrilled to announce that we have plans to expand our lighting range for next year's events! Keep your eyes peeled for disco lighting, UV lights, rotating patterned lights and much more…
Having an extensive range of lighting to hire will allow us to tailor your designs even more precisely. This is guaranteed to make them completely bespoke and unique to your event.
Plans for 2018 lighting schemes are underway!
We can't wait to get our hands on some new pieces of kit, and to amaze you all with our new and improved lighting designs!
So if an Ibizan vibe is what you're dreaming of, we've got all the means to make it a reality. Just add champagne sprays, bright orange tans and appropriately themed decorations!
Chat to us about achieving unique lighting designs.
As mentioned earlier, you don't have to be having a tipi celebration – we really don't mind! We are also super flexible and always want to put you first, meaning that you can have as much or as little event lighting as you wish.
We are also able to curate designs with other party lighting hire specialists. So disco lighting hire is your thing, then this will give you the ultimate expertise in creating a bespoke lighting plan for your special event.
All of our lighting looks fab in the day, but looks sensational when transforming your venue in the evening. So please, if you are struggling to find passionate people to deliver your event lighting come to us – we'd love to help!
Our very best wishes.
Tipi Unique x​