Now that Christmas and New Year are over, everyone at TUHQ is excitedly looking forward to our spring/summer weddings! It means everything from those lighter, warmer evenings and dancing under the stars, to of course festival-themed events! One of our absolute favourite weddings was that of Danny and Cath's in July 2017 – the appropriately named CANNYFEST! The whole day encapsulated the festival theme perfectly, and we hope that this post gives you some fabulous ideas for having your own festival style tipi event…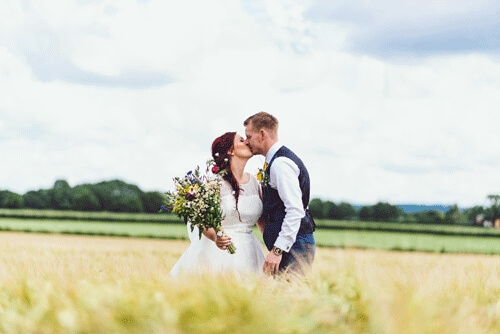 Danny and Cath certainly had the weather for most of the day, and especially for their outdoor ceremony. Using a garden archway adorned in ivy as the alter, and hay bales with cushions as seating, Cath walked down the isle towards her best friend. We loved how Cath used handmade delicate paper cranes to add fun pops of colour to the rustic arch, as they subtly tied in with the shades in her bouquet of wild florals. The bride's tee-length gown was also complemented by the pale blue dresses worn by the bridesmaids, and the whole bridal party paired their gowns with both heels and wellies throughout the day!
By hiring two of our giant tipis, Danny and Cath successfully created a space that could be enjoyed and used to maximum capabilities during both day and night. We advised that the tipis were orientated towards the guest entrance, and the canopies raised to welcome the Cheshire countryside views. Inside one of their wedding tipis Danny and Cath had a blend of rustic round and long tables set around a fire pit, and used the second tipi as a designated party zone. They cleverly chose to locate our rustic bar in the linked section, meaning guests could easily access it from both areas. In true festival style all guests were camping, yet of course with the added luxury of Tinkerbell tents!
From the minute guests arrived they were greeted with summery festival vibes, and a relaxed tipi party atmosphere. One of the couple's main aims was to create a carefree day where guests could let their hair down and share the love. Through Danny and Cath's styling, our tipis had been transformed into a festival-lovers haven, with bunting, festival flags, and festoon lighting swagged across the entrance to give amazing first impressions.
Danny's handmade 'CANNYFEST' sign, along with a festival line up for the table settings, really ensured they had captured all the elements of a true British festival. With the top table featuring as 'The Main Stage', the table décor was also in keeping with the festival theme, with stage names carved into chunks of wood, bright florals, and cute windmill flower pots.
Danny and Cath's big day is a perfect example of how opting for DIY décor not only cuts costs, but adds a really personal and authentic feel to an event. Cath created the ingenious 'Bra Pong' game, which we think is such an original and comical idea to get everyone involved – plus it's super easy to make! All guests were also given personalised wristbands upon arrival to wear throughout the day, another fab example of a DIY finishing touch.
The drinks were flowing throughout the whole celebration, and by the time evening fell, guests were more than ready to party! Danny and Cath could be seen dancing into the night amongst friends and family – who were careful to abide with the dance floor rules and shake it like a Polaroid picture!
Danny and Cath were such a delight to work with, and so relaxed about every element of their planning. We absolutely loved their big day, and can safely say that their festival-themed nuptials was a massive success!
Gorgeous photographs shot by James Williams Photography
We wish Danny and Cath every happiness.
Tipi Unique.